- Route plan
When covid-19 outbreak started we had already booked a trip to Iceland. As months were passing by, we were looking forward to the chance of being able to make that travel. And when we thought we were finally going to make it, less than one month for the departure day, Icelandair cancelled our flights to Reykjavik and, since the rest of bookings had cancellation free, we cancelled everything and looked for a new trip to do. We had short time to organize it but, since I'm always having a list of destinations with the itineraries made, from that list, the most feasible one was Northern Italy. Italy, after having got the worst hit of the virus in Europe, it was recovered better than anyone else and had very few cases during the summer. It was also in the very short green list in Ireland, where we were, so we could be free of quarantine when coming back.

So, we could take advantage of the low flight rates because of the crisis and booked our return flights to Milan for the same dates we had for Iceland, which were our holidays.


The base itinerary was already thought and was based on me being able to show Venice, Florence and Pisa to Eva, which I knew from when I was a child and she didn't, and Eva could show me the Alpine lakes and Milan, which she knew from when she was a child and I didn't. So, with this base, our route should link those points and we added stops in the way in places like Brescia, Verona, Padua, Parma and the Aosta Valley, to access to one of the 49 wonders of our list: Mount Cervino or Matterhorn.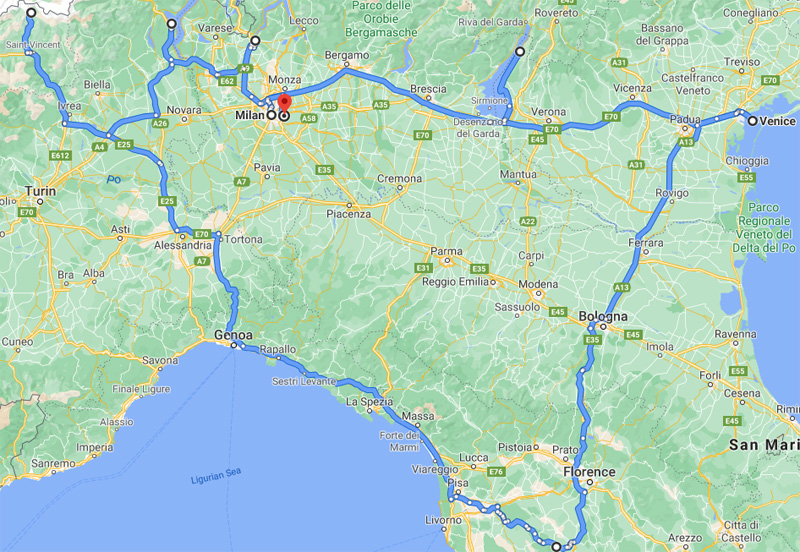 There were more places for a short visit in the way but, when we learned about the ZTL in the cities and how it is an usual problem for the travellers because of the high fines, we reduced the list of cities in order to get the risks lower and added San Gimignano, which will be the most southern place in all our route, This way, cities like Vicenza, Bologna and Modena were removed from the list.

So, finally, the definitive route plan (number of day and where we'll spend the night) is the following, starting by September 13th of 2020:

1: Brescia
2: Malcesine
3: Padua
4 y 5: Venice
6 y 7: Florence
8: Parma
9: Vantournenche
10: Stresa
11: Como
12: Milan
13: Home

The total budget for this travel, counting flights, hotels and car, is about 1800€, which could be way less by simply reducing the category or location of the hotels and having lesser insurance conditions for the hired car or, as suggested in the "Other expenses" section below, using train for moving from one city to other.



- Flights
Choosing flight was an immediate task this time since, with our fixed dates, we simply checked how much were they with Aer Lingus and, due to this weird period of empty planes, the rates were so good that we didn't look further.


Finally, then, the return flights bought to Aer Lingus by 62€ per person, are the following:

09/13/2020 DUB 12:05 LIN 16:40
09/22/2020 LIN 11:10 DUB 12:50

- Hotels
The low rates this year are for hotels too, which must compete for the few travellers that are there. So, the following prices and hotels might be not useful for next years. We went to Booking in order to choose the best option for every place. This time we've searched based directly in the location for our plans and keeping in mind that we're having a car.

The first nights we booked were the ones for the first half of our itinerary, when the option of stopping at Bologna or Modena was still in place. The first night is in Brescia, with a great Old Town and halfway to Garda Lake. We've looked for a hotel there, just at the ZTL border, close to the castle and with free parking, and that's Hotel Master, a four stars hotel that is giving us all that by 76€.

We quickly noticed that allocation rates in Garda Lake were higher. We still booked one night at Hotel Lago di Garda, within Malcesine's centre, with paid parking, by 107€.

For the next day we booked one night at Hotel Donatello in Padua by 66€. Its location is perfect: just in front of St. Antonio Church, at the very border of the ZTL and with paid parking.

We looked for something special for the two nights in Venice and we knew that a hotel with breakfast in St. Marcos Square would be expensive, so we've made the highest expense in a hotel of this travel here. The chosen one has been Hotel Montecarlo, for which we've paid 120€ per night. It's not really that expensive for what it is.

For our two nights in Florence we've chosen a B&B sited a few meters from the Duomo. This area is obviously within the ZTL, but they offer an option for parking that includes the procedures for reporting the plate number to the authorities to be allowed to drive through the ZTL. We've booked at B&B Le Stanze del Duomo by 83€ per night, which are not including the service of that third-party parking.

When we finally closed our itinerary we booked the rest of the hotels. The next is for somewhere close to Parma city centre, the place chosen for our rest in our way to Aosta Valley. The chosen one is Novotel Parma Centro, a four stars hotel just out of the ZTL and at walking distance to the Cathedral. We've paid 82€ for that night.

For Cervinia area we would like to be in the hotel across the road of the Blu Lake in order to optimize our chances for having good views of Mount Cervino, but we found several of the hotels there were closed, including that one. We end up by booking one night at Hotel Dama Blanca, in Valtournenche, by 80€.

We've paid a bit more of the average in this travel for Hotel Astoria in Stresa, just by the shore of Lake Maggiore. Even though rooms with views to the lake are quite more expensive, we can get one with views to the mountain by 110€ and we still have the views to the lake just by leaving our room.

In Lake Como we've searched for a place in Como because our highlight there is visiting its Old town. We've chosen the B&B La Terraza di Como, where we've paid 95€ for that night.

And, finally, for our last night in Milan we've chosen the Old town, within the ZTL, so we have to deliver the car before that. The chosen one has been the B&B Le Colonne Milano, at walking distance to Duomo Square. We've paid 80€ for it.

With this, the total expense in hotels for this travel is about 1100€, which is making an average of nearly 92€ per night, which points to we haven't been saving a lot in allocation this time.


-Rental car
After reading carefully all the options for hiring a car at Linate airport we chose Alamo (). All of them have bad reviews because most customers don't understand they're still having charges to the credit card after even one year, but these are coming from the ZTL fines and the company has nothing to do with them, even if they're the ones charging them. So we had to focus on the reviews about extra charges when returning the car.

Even though there were cheaper companies, they didn't have an option for zero excess in case of robbery, which is something I'm always concerned about since it is something I can't control. And we could also read reviews complaining about charges for tiny scratches that, sometimes, customers were sure they were already there when the car was delivered.

We preferred to pay more for a peace of mind and Alamo was the cheapest one with zero excess option, which was 220€ over the rate. With this, the total amount we paid for the car was 624€ for 12 days and zero excess in case of any issues.

-Other expenses
For all our visits for this travel, the only one we've purchased in advance is the one for the Cenacolo Vinciano to ensure we're going to be able to see Da Vinci's "The last supper" in Milan in the short time that we're going to be there.


We've paid 15€ per person for our tickets for this visit at 6:45 PM the day we arrive at Milan.

We also need to mention here a expense that we're usually ignoring but, this time, it is important enough as per explaining it. It seems driving is kind of a luxury in this part of Italy: petrol prices are one of the highest ones in Europe but, that cost is not even close to the one for parking, which is a daily cost and quite unavoidable. The most expensive places for parking have been Venice and Florence, where we've paid about 25€ per day. This means that, only in those two cities, we've paid 100€ just for parking. We've also paid parking in Malcesine, Verona, Padua, San Gimignano, Pisa, Parma and Como.

And another daily cost on the road is the one for tolls. All motorways have tolls, so you can pay more than one in one day. Our calculations are that we've paid over 80€ in tolls in this travel.

Having this, there is a way to save a good amount of money by having a similar route that could be done by train, which is linking all the cities.

Detailed plan, then, is like this:
| | | | |
| --- | --- | --- | --- |
| | | SEPTEMBER | |
| Day | Night | Morning | Afternoon |
| 13 | Brescia | Flight | Brescia |
| 14 | Melcesine | Brescia | Malcesine |
| 15 | Padua | Malcesine | Verona |
| 16 | Venice | Padua | Venice |
| 17 | Venice | Venice | Venice |
| 18 | Florence | On road | Florence |
| 19 | Florence | Florence | Florence |
| 20 | Parma | San Gimignano | Pisa |
| 21 | Vantournenche | Parma | Breuil-Cervinia |
| 22 | Stresa | On road | Stresa |
| 23 | Como | On road | Como |
| 24 | Milan | On road | Milan |
| 25 | Home | Flight | Home |