- Route plan
This trip comes directly from checking in February flights rates and the restrictions due to covid for the destinations that we have pending, since they started to remove those restrictions in Europe by then. We first looked at South America, where we found that Peru and Ecuador had the same problem of quite expensive flights and harsh covid restrictions. In Asia: Vietnam, Japan, China or Korea were not even issuing tourist visas. But when we looked at South Africa we found some incredible offers that allowed us to fly for less than 500€ per person and that it was only necessary to have a PCR to enter into the country, which would even allow us to go at that time, although the trip was scheduled for autumn. A couple of months later they removed the need for PCR.

In February we bought the flights and the bungalows in the Kruger camps because we knew that they sell out quickly and we leave the rest for later because we do not want to risk more than necessary in case travel restrictions return. At least, in case of cancellation of the bungalows, only 10% would be charged.

The route was defined nearly immediately, which allowed us to book the camps, and was summarized in something as simple as 5 days in Cape Town and a week of safari in Kruger N.P. Later, we added a visit to Hlane National Park in Swaziland before reaching Kruger trying to ensure we could see rhinos in the wild.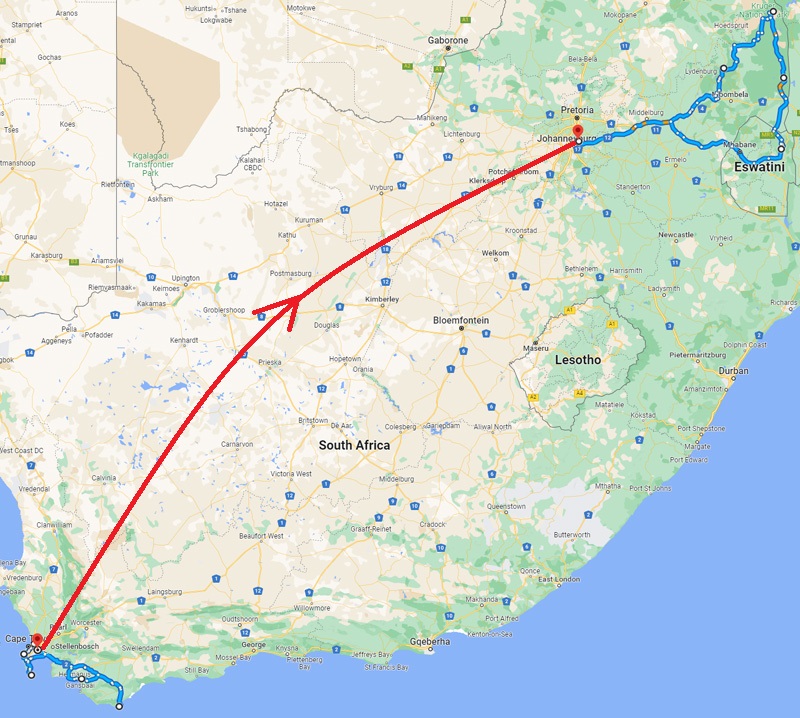 Purchasing a late domestic flight made us need to spend the night at Johannesburg airport in exchange for taking one from Cape Town nights, but we could still enjoy that day there before flying.

So, finally, the definitive route plan (number of day and where we'll spend the night), is the following, starting by October 3rd of 2013:

1,2,3 y 4: Cape town
5: Johannesburgo
6: Hlane
7, 8, 9, 10 y 11: Kruger
12: Graskop
13: Flight



- Flights

As mentioned above, the decision to travel to South Africa this year comes mainly from the flights. When in February I was trying to decide where we could travel this year seeing that the measures for the covid were gradually being removed, when cheking flight rates for our pending destinations, seeing that we could fly to South Africa for less of 500€ our next trip was set.

The first offer I found was from Etihad, one of the best airlines in the world and which we had not tried yet, on their flights to and from Johannesburg. But given that the itinerary required us to be in Cape Town and the Kruger National Park, once we ruled out the link between those two places by land, we chosed the offer from Turkish Airlines, a regular of ours, which for just €20 more allowed us to fly to Cape Town and come back from Johannesburg.

Finally, the return flights bought to Turkish Airlines by a total of 939€ for the two of us are the following:

10/02/2022 DUB 16:50 IST 23:20
10/03/2022 IST 1:50 CPT 11:45
10/15/2022 JNB 18:10 IST 4:50
10/16/2022 IST 7:25 DUB 9:55

As it's usual when we enter the country through one city and leave through another, we need a domestic flight to take us from Cape Town to Johannesburg. We found the local airline Airlink that does that itinerary in two hours. We chose a flight that allows us to flight in the evening and spend the night at the Johannesburg airport and be able to leave next day for a long drive after a good rest. This is the flight for which we paid 788.46 ZAR each (about 92€):

10/07/2022 CPT 18:40 JNB 20:45

With this, the total expense in flights is 1123€, which is a great price for such a destination.


- Hotels

The first thing we booked and paid for were the bungalows at the camps inside Kruger National Park, as we were aware that they sold out quickly and in fact we found that the ones with a view were already sold out in some of them 8 months in advance.



To make these reservations it is necessary to register on the website of South Africa's national parks: sanparks.org. We have booked there based on the fact that we were arriving from the South, from Swatziland, and following the itinerary that we have planned towards the North through the park.

These have been our bookings for the camps in Kruger National Park:

10/09/2022 1 night at Crocodile Bridge: bungalow BD3 by 1667,25 ZAR
10/10/2022 2 nights at Lower Sabie: bungalow BD2U by 3790,50 ZAR
10/12/2022 1 night at Satara: bungalow BD2V by 1800,25 ZAR
10/13/2022 1 night at Olifants: bungalow BD2 by 1482 ZAR

This makes a total cost, including the Community Fund, of 8827,4 ZARs, around 515€

For the rest of the accommodation, we went to booking.com and started by Cape Town, where we looked directly in the city center area to facilitate the access to restaurants, supermarkets and visits on foot. For value for money, the Urban Oasis At The Four Seasons stood out, which will locate us in the area we wanted by 242€ for the four nights we will spend there. In this case it is an apartment and, as we will require in all reservations, with free cancellation.

After the domestic flight that leaves us in Johannesburg at night, we had to look for a hotel as close as possible to the airport, which would allow us to start early the next day picking up the car for the long drive ahead. Of the two hotels at the airport, we chose the least expensive one: City Lodge Hotel. We get the night by 90€.

As our first destination after having a car is the Hlane National Park, within the small country of Swaziland, we booked a room at the Ndlovu Camp in that national park by about 66€.

For the last night, after leaving Kruger Park behind, the idea is to go through Panorama Route, so we look for lodging in Graskop. Among the many options we chose Laguna Lodge, with free parking, by around 70€.

With this, the total expense in hotels for this travel is 983€. The average is around 82€ by night, which looks quite good if e consider that weˇve chosen from the best of every place.


-Rental car
We plan to rent two cars on this trip: one for visits outside of Cape Town and one for the entire safari drive route in Hlane and Kruger parks.

After checking on some local rental agencies and reading several reviews, we decided on a safer option such as an international one that we already know and we chose Avis because it has an office to pick up the car near the two places where we have to do it. It also allows us free cancellation.

The Avis office in Cape Town is a short walk from our apartment and there is also an office at Johannesburg airport, where we will stay the first night we arrive so we can drive rested the next day on the long drive to Swaziland.

We paid ZAR 3,350 (about 199€) for the three days rental in Cape Town and ZAR 6,931 (about 410€) for the 8 days one in Johannesburg. It is the same car in both, so the difference is, apart from the number of days, that in Cape Town we will pick up the car and deliver it in different places, since I will take advantage of having a car to leave it at the airport when we have the flight , and in that in Johannesburg we have taken the mobile Wi-Fi because we believe that it will be a good asset for the places where we will be.

Both rentals include all insurances and GPS.

-Other expenses
The first extra purchase we made is the Wildcard, which gives us access to most parks in South Africa, including Hlane in Swaziland. This must also be done on the South African national parks website: sanparks.org. The price for an international couple is 5,345 ZAR (315€), which we pay three months in advance because it takes time to receive it at home. We never received the card but the purchase receipt that we received by email can be used in the same way to access.

There are other activities and tickets that will be commented on each day's pages.

Detailed plan, then, is like this:


| | | | |
| --- | --- | --- | --- |
| | | OCTOBER | |
| Day | Night | Morning | Afternoon |
| 2 | Vuelo | Casa | Vuelo |
| 3 | Cape Town | Vuelo | Cape Town |
| 4 | Cape Town | Cape Town | Cape Town |
| 5 | Cape Town | Cape Peninsula | Cape Peninsula |
| 6 | Cape Town | Hout Bay | Cape Town |
| 7 | Johannesburgo | Hermanus | Cheetah Outreach |
| 8 | Hlane | On road | Hlane |
| 9 | Crocodile Bridge | Hlane | Kruger |
| 10 | Lower Sabie | Kruger | Kruger |
| 11 | Lower Sabie | Kruger | Kruger |
| 12 | Satara | Kruger | Kruger |
| 13 | Oliphants | Kruger | Kruger |
| 14 | Graskop | Kruger | Panorama Route |
| 15 | Flight | To Johannesburgo | Flight |
| 16 | Home | Flight | Home |