- Route plan
This travel comes from something read on a newspaper more than a year ago saying experts previewed one more year for the current solar activity period, until March 2015. By then we already had 2014 full, but could look for something at first quarter of 2015 to accomplish our wish of watching Northern lights.

In my investigation I learnt we can look after the best possible options for seeing them but, other than that, there is a big part depending on luck.

First we decided the place: Norway and Finland seems to be the most feasible countries. Finland won by price and day activities because, although the snow activities are similar everywhere, in the Finish Lapland we can find Santa Claus Village, which we had in mind.

The dates required a deeper thought: summer is not valid because there is no night, so no lights to be seen. Winter is the opposite: no daylight for snow activities and we couldn't base the entire travel in a single thing depending on the luck. If the sky is cloudy, it could be spectacular what is happening over it, but we couldn't be able to see it, so I searched for the less cloudy months in the area and found they were September and March. We chose March as there is no snow in September.

With a plan for Lapland we could look at other places and the two most iconic cities in Russia came up quickly. So the initial plan was to spend some days at Finish Lapland and then go to Helsinki as stopover in our way to Saint Petersburg, which can be by boat. From Saint Petersburg is very popular going to Moscow by night train.

One more city would appear after that as Tallinn looks amazing so we modified the plan above to have what looked as a definitive one: some days in Rovianemi, then flying to Helsinki, we can take a ferry to Tallinn from there and the Estonian capital city has train link to Saint Petersburg. Looking at the train options between the two Russian cities we saw we should share a cabin if we don't want to spend half of the budget just on this train trip, so we chose a flight.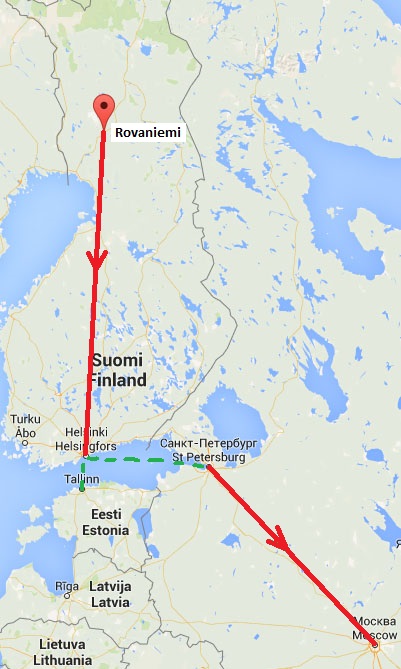 With this, then, our trip to the South from North Pole looked like this:

1: Arrival at Rovaniemi where we spend three nights in Santa Claus Village.
2: Flight to Helsinki and spending the night in the city.
3: Visiting Helsinki and an afternoon ferry to Tallinn.
4: Entire day in Tallinn.
5: Leaving early in a train to Saint Petersburg where we arrive by noon.
6: Three nights in Saint Petersburg visiting the city, Petergof Palace and Catherine Palace.
7: Flight to Moscow and spending two nights in the Russian capital city.
8: Flight back to home with link in Helsinki.

We only should do a change to this plan but in the last moment when they changed timetable for trains between Saint Petersburg and Tallinn and there was no train for the day we needed it. We quickly run our plan B by removing one night in Tallinn and purchasing a cabin in the cruise between Helsinki and Saint Petersburg, so we will reach Russia by sea, as in the first thought.

This change takes time to visiting Tallinn as we must take a ferry back to Helsinki, but we win some for Saint Petersburg, where we really need it.

With this, the budget is around 1000€ per person. We take apart 600€ more just for proper clothes for extreme cold and still we must keep in mind Finland is a very expensive country, so any expense there can be significant.

So finally, the definitive route plan (number of day and where we sleep) is the following, starting by March 19th of 2015:


1, 2 y 3: Rovaniemi
4: Helsinki
5: Tallinn
6: Ferry
7, 8 y 9: Saint Petersburg
10 y 11: Moscow
12: Barcelona



On the map at right we show the itineraries: red for flights and green for boats.







-Flights


The first search already gave us the best option for flying to Finland: their national airline Finnair.

This airline allow us also coming back from Moscow, and we could have the desired combination – going to Rovaniemi and returning from Moscow – by just a bit over 300€ if it is done quite in advance. Anyway, the flight rates are not raising a lot along the year and I purchased them in August by 330€ but the same were available by 412€ just a week before departure in March.

Finally, then, the return flights with Finnair are like this by 330€ per person:

03/19/2015 BCN 10:15 HEL 15:10
03/19/2015 HEL 16:20 RVN 17:40
03/30/2015 SVO 11:50 HEL 13:30
03/30/2015 HEL 17:25 BCN 20:25
Then it was time for domestic flights and, although Finnair could seem the option for a domestic flight in Finland as the Rovaniemi-Helsinki we needed, it wasn't, as it was more expensive by itself than all the previous international flights combined. So I even thought about doing this trip by train before learnt Norwegian covered the route between these two cities by low cost rates. I purchased two tickets without second thoughts by 68.5€ each. Somehow, this rate depends a lot on how advance they're taken and this same flight had risen to 229€ by March.

Our domestic flight in Finland is the following, by 137€ in total:


03/22/2015 RVN 16:50 HEL 18:10
At last, the trip between Saint Petersburg and Moscow, which was thought for being performed by train at the beginning, it is finally done by plane. The best option was for Russian airline Aeroflot, to which we purchased two tickets by 47.70€ each, 95.40 in total:

03/28/2015 LED 9:20 VKO 10:50

This makes a total cost in flights of 892.40€.

- Hotels
We looked at the allocation options in Rovianemi, but we find none we would change an apartment in Santa Claus Holiday Village for. These apartments are expensive, but if we're considering the standard of living in Finland, the value for money wins for them. Rates and options are the same when booking whether from their website or Booking.com, the only difference is we must pay at the moment of booking for the last, as in santaclausholidayvillage.fi we can pay once there. We prefer to complete the payment of 447€ for three nights at the moment and forget about it. With this allocation we save in transport as all the activities we want to do are there in the village.

Considering the short time we're going to be in Helsinki and Tallinn, for both capital cities we have the location as a priority. Following this, in Helsinki quickly stands out Best Western Hotel Carlton, the only option by less than 100€ in the city center. In Tallinn rates are more affordable and we end by choosing Hotel Ermitage by 65€ per night which, although at the beginning there were two of them, we finally take only one.

In Saint Petersburg we look for a good location in the center too because, although we're going to be there for three days, with our tours outside, we only have one day for visiting the city. We book in Petro Palace Hotel by 4500 RUB per night (around 200€ with the exchange rate in March).

The hotel in Moscow is the one which took more time to be taken as location was not a priority here because we must use the Metro as it is a highlight by itself to visit, so we only need a hotel close to a metro station and there are a lot of them. We have finally chosen Hotel Garden Ring by the usual reasons: value for money, communications, etc… but, also, because they have a free service for Visa assistance. It is 5500 RUB per night here.

With this, the total expense in hotels is like this: 447 +
90 + 65 + 205 + 167 = 974€.


-Ferries
As we're not going to rent any car on this travel we take this part for talking about our sea trips. We are finally going to use three ferries and, therefore, this makes it a significant part of the plan and budget.

The first two ferry trips are just for visiting Tallinn, so we've purchased two seats in one of the several daily ferries from Helsinki to Tallinn from the company Tallink Silja Line and another two for the Tallinn-Helsinki trip for the next day. This allows us to use the night booked in Tallinn previously.

Helsinki-Tallin, M/S Superstar (Operated by TALLINK GROUP)
03.23.2015 at 16:30 Helsinki/West Harbour - 03.23.2015 at 18:30 Tallin/D-Terminal

and

Helsinki-Tallin, M/S Superstar (Operated by TALLINK GROUP)
03.24.2015 at 13:30 Tallin/D-Terminal - 03.24.2015 at 15:30 Helsinki/West Harbour

The rates for a seat on these ferries is 29€ each, so the total expense here has been of 116€.

The other ferry trip is from Helsinki to Saint Petersburg and it is more part of a cruise company St.Peter Line does constantly linking St. Petersburg, Helsinki, Stockholm and Tallinn. The trip from Tallinn to Saint Petersburg had been the proper one to take if it was because, needing it for day 24th, there is none until 27th. As these ferries are leaving Helsinki from the same terminal than the other ones, we've already took the one from Tallinn thinking about linking directly to this. This is a longer trip and it is performed by night, reaching Russia by the next morning. When we purchased it the rates for a basic cabin (B2) was 73€. We add two breakfasts and two dinners and pay a total of 151€, which is pretty good knowing it also makes as hotel night.

Helsinki-Saint Petersburg, Princess Maria (Operated by ST.PETER LINE)
24.03.2015 at 18:00 - 25.03.2015 at 09:30

The total expense in ferries is 267€.

-Other expenses
The other expenses here come from the activities we're going to do, overall, in Lapland. These are expensive and, as we can do the most of them in the Village we're going to be allocated, we've only booked one tour to go to the mountain and watch (or trying it) the Northern lights for the day with no moon. We've purchased it from Lapland Welcome website and it has been 79€ each.



Detailed plan, then, is like this:




| | | | |
| --- | --- | --- | --- |
| | | MARCH | |
| Day | Night | Morning | Afternoon |
| 19 | Rovaniemi | Flight | Arrival at Santa Claus Village |
| 20 | Santa Claus Village | Rovaniemi | Santa Claus Village |
| 21 | Santa Claus Village | Santa Claus Village | Santa Claus Village |
| 22 | Helsinki | Santa Claus Village | Helsinki |
| 23 | Tallinn | Helsinki | Tallinn |
| 24 | Ferry | Tallinn | Ferry |
| 25 | Saint Petersburg | San Petersburgo | Saint Petersburg |
| 26 | Saint Petersburg | Petergoff | Saint Petersburg |
| 27 | Saint Petersburg | Catherine Palace | Saint Petersburg |
| 28 | Moscow | Flight | Red Square |
| 29 | Moscow | Kremlin | Kremlin |
| 30 | Home | Moscow | Flight |