- Route plan
It was time for visiting Asia and, while searching for it, stood out Thailand beaches and Ang Kor among the rest for us. Also, travelling that far allows us to have chances of a stopover in some other countries of the continent. I've found then, Royal Air Jordan could take us to Thailand from Barcelona with pretty good rates and offered a stopover in Jordan with good prices for trips and hotels. The idea of spending a few days in that country and visiting Petra, one of the wonders of the world, made me draw a first draft for our itinerary. Always thinking in a three weeks travel – which worked so well in USA -, we would spend one week in Jordan and two in Thailand. My researches for Thailand brought acknowledge of magnificent places around the country and every time I wanted to add more and more spots for visiting. The main draft showed to spend some days in Bangkok, some in Chiang Mai and the rest on some beach area, like Phuket. But rates for hotels and transport for Jordan stopover were not updated in Royal Air Jordan website and the current ones were not an advantage, it was cheaper to do a stop over by your own now. With these rates we were so out of budget which I would want to set as close as possible to 2000€ (1000€ per person).

We still could use Air Jordan flights as it was no airline with offers below 750€ per person and we always should have a link somewhere in the way. I searched a lot once Jordan visit was out of the table. I realized the key of the budget was in the flights as rates in Southeastern Asia for hotels and transports are comparatively low. Looking the route maps for low cost airlines in the area I found what seemed to be the best option: Airasia starts a new route to Delhi in 2010. As there were flights to India's capital by 500€, appeared the option of getting cheaper flights costs and also visit one of the wonders of the world: Taj Mahal. With Lufthansa we could have flights going to Bangkok and returning from Delhi by 600€. This plan seemed definitive: flying to Bangkok, going around Thailand and to Ang Kor, spending one day in Kuala Lumpur and flying to Delhi from there for visiting that city and Agra for 3 days. This stopover in India is paid with the saving in flight rates.

It was an evolution in the land route for the visits in Thailand and Cambodia as more places were appearing to visit. First must-do was for Ayutthaya, which could be done as a day train trip from Bangkok, and then Lop Buri and Sukhothai joined to the list in what started to look as a South-North route. In Cambodia flights force us to land in the capital, Phonm Penh, and then go up to Siem Reap for visiting Ang Kor. It is the option of doing this route in a cheap cruise through Mekong River. Then Erawan and Khao Yai National Parks appeared too for our route in Thailand, places we could visit by car.




I changed the beach to be in too because, after gathering information on this subject, Phuket appears as a very touristic place while Krabi looks like a less crowded place, with better landscapes and in a perfect location for two of the must-do visits in the area: Phang Nga Bay and Phi Phi Islands. I was recommended to spend one night at least in Phi Phi, so I get the ferry timetable.

With what looked like a definitive route plan, the budget was just a bit over that 2000€ line, but a great discovery did we could get it lower: Delta miles earned in our travel to USA, which we still have and expire at the end of 2010, let to be spend in hotels, between a wide range of allocations in Delta website for cities as Bangkok, Siem Reap and Chiang Mai.

The idea, then, was to pick our hired car at arrival at Bangkok airport and driving to Chiang Mai passing by these places: Kanchanaburi, Ayutthaya, Khao Yai, Lop Buri, Sukhothai, Chiang Mai. From there, we would fly to Bangkok and then to Krabi, we would take a ferry to Phi Phi and coming back to Krabi the next day, then flights Krabi-Bangkok and Bangkok-Phnom Penh, the mentioned cruise to Siem Reap and, from there, a flight Siem Reap-Kuala Lumpur and then Kuala Lumpur-Delhi.

We needed to choose the dates for this travel as, although it was though for summer, it is their monsoon season. Although it seems the rains use to be strong and short I was not confortable with the idea of being in a paradisiac beach with no sun. High season in Thailand is December, January and February. It is the dry season, also known as fresh season, with a fresh that is more than welcomed. Temperatures in summer are high, around 40º, and humidity is high too, so you are sweating the whole day; somehow, in winter days are sunny and temperatures in thirty-something. Hotel rates rise for this period but as they're generically cheap, it means you can get a luxury room by 30€ instead of 20€, so we're still on budget. The travel then is thought for December.

I could read Qatar Airways was going to add Barcelona on their routes since June in 2010. They already have good rates from Madrid and offer what is considered the best touristic class in the world. So I've been checking the website of that airline often until they included Barcelona flights and could see rates to Bangkok for December were 714€. We could also fly to Bangkok and return from Delhi by 600€. So I did the route plan based on their timetable. On another hand, I found out December 5th is a very special day in Thailand because of King's birthday, which I used too to choose where to be when.

After checking Qatar Airways flights land in Bangkok at 6:59 AM, the route plan was the following: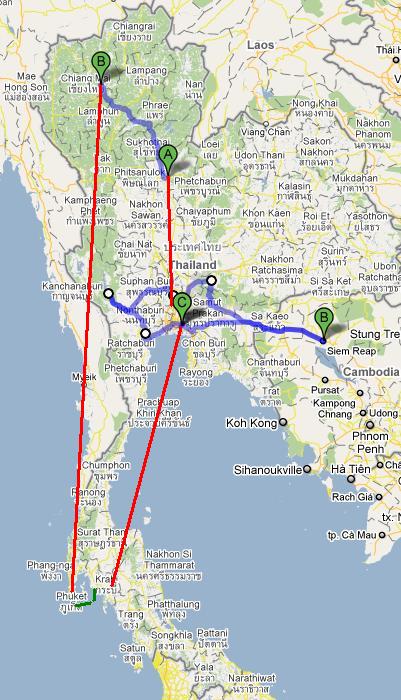 - Arrive to Bangkok's airport and taking the car for driving to Damnoen Sadouak. The idea is reaching the floating market before 9 AM, when the tourist coaches arrive and it gets crowded. Just before getting there we pass close to Maeklong market, famous because it is set on the rail tracks and, 8 times per day, they must remove the stock for letting the train pass through it. From there we would drive 1 hour and 15 minutes to Kanchanaburi to be with tigers in Tiger Temple, which opens at 12PM, and then we would drive to Northern to reach Erawan park, which closes at 5 PM. After that, we would have a quick stop in Kanchanaburi for pictures to the river on the River Kwai and go on with our ride to Ayutthaya, where we would arrive by night, to see the temples on lights and sleep there. Big plan for this first day, but feasible.

- Next day we would visit Ayutthaya to leave to Khao Yai, passing by Lop Buri. We must be at Khao Yai on time for the evening safari and, if we see we're not going to manage it we wouldn't pass by Lop Buri, but drive directly to the National Park.

- One day safari in Khao Yai

- Driving to Sukhothai

- Driving to Chiang Mai, where we would visit Doi Suthep before delivering the car.

- Two days in Chiang Mai with trips to Doi Ithanon and an elephant farm, for example.

- Flight to Bangkok and spending two days in the capital. One of these days we sould apply for Indian visa.

- Flight to Krabi witth 4 days by the beach. One of them we would take the ferry to Phi Phi Island spending one night in there.

- Flight back to Bangkok, where we would be two more days, with time to taking the visas.

- Flight to Phnom Penh and one night in there

- Cruise through Mekong to Tonle Sap Lake, close to Siem Reap, where we would spend three days exploring Ang Kor.

- Flight to Kuala Lumpur and one night close to Petronas Towers

- Flight to Delhi and two nights in that city with a train trip to Agra.

And this was going to be the definitive plan if two important things didn't happen: I was forced to reduce my vacation days because of work issues and Qatar Airways rates to Bangkok were discounted to 567€. We found out too the Bridge on River Kwai festival happens at the end of November, with fireworks and sound & light shows. We should spend the night in Kanchanaburi if we want to enjoy them.

The "easy" part of the plan adaptation to the new terms has been to remove the short visits to other countries, as transits by India and Malasya. The good part of these changes is we can reduce the total budget to the incredible amount of 1500€.

Other days removed are the one in Phnom Penh, one at beach and one in Bangkok. We concentrated some of the visits too. That way, the changes we did over the previous route plan to get the definitive one were:

- Spending the first night in Kanchanaburi and removing the visit to Tiger Temple (). The visit to Maeklong market is going to be difficult to introduce and this first day will be just for enjoying Erawan and the Bridge on River Kwai festival, after visiting the floating market.

- Visit to Lop Buri is just if we've got enough spare time after visiting Ayutthaya.

- Flights to and from Cambodia have been removed as we're going to cross the border by land taking advantage it is close to Khao Yai.

- We will go to Bangkok directly from Cambodia, where we will deliver the car. The benefits of this option is saving the one way fee of 60€ for delivering the car at the same place it was picked off from and reaching Bangkok on time for the Trooping the colour at December 3rd.

- We will use a local low cost airline to go to the North of the country. Nok air flies to Phitsanulok very early, there we could take another hired car for a single day and visiting Sukhothai and reach Chinag Mai. As this is in Saturday, we're going to be able of being in the Sunday market the next day.

- From Chiang Mai we would take advantage of an Airasia offer which allows us to fly to Phuket by less than 10€. As the ferry to Phi Phi Islands leaves the next morning at 8:30 AM, this way we can spend the day in Chiang Mai but being in Phi Phi Islands the next morning.

We've finally reduced some costs and make some of the fixed expenses cheaper so finally the budget is below the 1500€ line (750€ per person), which is incredible for us.


So, finally, the definitive route plan (number of day and where we sleep) is the following, starting by November 26th of 2010:


1: Kanchanaburi
2, 3: Khao Yai
4,5 and 6: Siem Reap
7, 8: Bangkok
9, 10: Chiang Mai
11: Phuket
12: Phi Phi
13,14 and 15: Krabi
16: Bangkok
17: Doha
18: Barcelona
At the map above are appearing in blue the routes by car, in red the routes by plane and in green the routes by boat.


- Flights
The first step is always purchasing the flights as the date and time of the arriving and leaving days make conditional to the rest.

At a first check we got a rate of 1500€ for both of us with Royal Air Jordan. Then we got a 1200€ rate using the option, as mentioned above, of returning from India, first with Lufthansa and finally with Qatar Airways, after they opened their route to Barcelona. We finally could get our flights to Bangkok with Qatar Airways, in a return trip, and for both of us, by 1134€. This rate appears in July and was still there in August, only that for less dates and times.

The conditions for these cheap rates are the usual ones: leaving on Thursday and returning on Monday. The most wanted options, as leaving on Friday and returning on Sunday are usually more expensive.

All flights of this airline have a link in Doha, Qatar capital. While link for flight to Bangkok is short, when returning we must spend the night in the airport. This airline offers hotel and meals to people on transit for more than 8 hours between flights. It is explained in their website there are some routes out of this option. Regardless our Barcelona-Bangkok is in or out of this service, it is specified you can only take advantage of this benefit if there is no shorter options for your route. Our route has shorter options, only they were more expensive, so we will see how the hall I've read they have in Doha airport for people to sleep are. We're going to spend 8 hours and a half in there.

Finally, then, return flights with Qatar Airways are like this:

11/25/2010 BCN 10:40 DOH 19:00
11/25/2010 DOH 20:30 BKK 6:59 +1
12/12/2010 BKK 19:50 DOH 23:15
12/13/2010 DOH 7:50 BCN 13:15

We still needed to take some domestic flights. The choosen airline has been Air Asia. Their rates change week after week and I should check their website very often in order of getting the best rate. This way I detected a Chiang Mai-Phuket flight by 900 Baht for the two of us. I purchased it immediately. Air Asia has three flights per day on this route and this incredible rate was only offered for the nocturne one, but it was very useful for our itinerary as I could be for the first ferry to Phi Phi Islands at 8:30 AM next morning. So it was needed just a transit night in Phuket.

Another flight we should get is the one returning us to Bangkok from Krabi. This is more expensive and, although I saw a cheaper rate just for a moment, I finally bought the tickets by 4500 Baht, which actually is less than 50€ per person.

So, in August we've already got Air Asia flights, although the offer for the one to Phuket was taken in June. These are the flights:

12/06/2010 CNX 21:30 HKT 23:30
12/11/2010 KBV 12:15 BKK 13:40

We still needed one more flight, this one from a local airline. The plan for our Bangkok-Chiang Mai route, visiting Sukhothai in the middle in the same day starts with an earlt flight to Phitsanulok. This route is made by Nok Air. This airline has local rates for its flights and, therefore, is the cheapest rates you can find. Somehow, their website doesn't allow to book – or even check – any flights until 4 months before the flights. So this flight for December 4th appeared on their website in August. We paid around 20€ per person here.

12/04/2010 DMK 6:50 PHS 8:00



- Hotels
I've checked a lot of websites before taking the hotels. Asiarooms.com, agoda.com and booking.com have concentrated the most part of the research. Somehow, in some cases I've found the best rates directly in the hotel's website.

For this travel there is one thing that has affected a lot the choice of hotels. Delta miles earned when travelling to USA could be spent on hotels. And they should be, as the miles expired on December 2010. There were a lot of hotels available on Delta website for cities with airport like Bangkok, Siem Reap, Chiang Mai, Phuket and Krabi, and none for the rest of places. This way, I spent my miles on the three nights in Siem Reap, a cheaper city than the rest, and the one in Phuket. My wife's miles have been spent on two nights in Chiang Mai, and my sister's on three nights in Krabi.

Having that, the choices for those cities should be in Delta's hotel list and based to Tripadvisor's ranking, the desired location and if breakfast was or not included, the choices have been:

- For Chiang Mai, Banthai Village, one of the best rated in its rate range and located in city center, at short distance from the market.

- For Krabi, Sunda Resort, good rated, with our own bungalow, the only objection is the location, but they include a free tuk tuk service.

- For Siem Reap, Prum Bayon, one of the best rated on its rate range.

- For Phuket, Thavorn Grand Plaza, a cheap hotel because it has no beach, but as it is just for sleeping and leaving early to the ferry quay, we just ask to be close of it. We've chosen a spacious suite.

For Bangkok, at the beginning our attention went to Davis Hotel, forgetting about Delta miles and Bangkok Smile card discounts, but we finally have chosen the President Palace Hotel, best rated, closer to public transport and, also, a little bit cheaper. This hotel is close to restaurants, bars and clubs and we can get a 30 sqm with a 42" flat screen by less than 40€ per night.

For Kanchanaburi we looked after being in the city, as close as possible to the Bridge on the River Kwai, to enjoy the festival without needing the car. River Kwai Hotel seems to fit here and have free parking and wifi. Rate is 1300 Baht per night plus additional 300 Baht for the festival day. 1600 Baht in total, which is almost 40€.

We shouldn't think a lot about the next two nights as they come with the activity: safaris on Khao Yai. Greenleaf has, apart from the safaris and tours, basic rooms by 8€ per night, but they mention in their website a room with A/C and hot water in a resort close to them can be arranged if desired by 1000 Baht. We've chosen this option and in their email they mention resort's name is Ruen Mai Ngam. In 2010 this resort is not appearing in internet, so we will find out about it.

The only night pending to solve is the one at Phi Phi Island. I've checked rates in various resorts and could see they're expensive in there. Looking a lot os websites I find out about Phi Phi Sand Seaview and love the idea of being in a bungalow just on the white sand of the beach. We've booked and paid 70€ for one night in a beach front bungalow.

This way, just with 280€ I've paid all the hotels of this travel. This is the cost of 7 nights: 3 in Bangkok, 2 in Khao Yai, 1 in Kanchanaburi and 1 in Phi Phi; which is an average of 40€ per night. Thanks to Delta airlines for the other 10 nights of this travel!



-Car rental
Following the plan above, we need to hire two cars: one in Bangkok airport to take just at our arrival at the country, which is going to be delivered in the same place, avoiding this way the one-way fee, which use to be 60€ in Thailand. The other one would be in Phitsanulok airport and thought for being delivered the same day in Chiang Mai.

It seems we can rely on Thai-rent-a-car to rent a car in Bangkok. It includes all the insurances and there is a 50% of discount with Bangkok Smile card. I think the price would be 60€ for all 7 days with these conditions. With these rates we can think on leaving the car in Cambodia border and paying the renting for the three days we're going to be in that country although we're not using the car at all.

But just two months before this travel I've changed to another local company for renting the car. The reason is I've got a confirmation by phone I cannot get a Bangkok Smile card in the airport, they're just delivered on three spots in the city center, so we cannot use it for the car hire. I found out too that Thai-rent-a-car and the most of the companies use to charge a huge deposit which, although it is returned if there are no problems, it is less money for spending in the travel. In our case this deposit was as big as 1000€!. I don't understand it considering that, with the paid insurances, the most you must pay in any case is 150€ of excess, which would be a logical amount for the deposit. Our solution for all these problems has been to use another local company: Siam rent a car. I haven't found reviews about this company, but price is 7250 Bahts with them for a week of renting and just 5000 Bahts of deposit, which can be delivered by cash or card. Without Smile card this is the cheapest option.

For the single day hire we're thinking about hiring it once there. My searches in internet have returned 90€ as cheapest price: 30€ for the rent and 60€ for tone-way fee. I think I can do it cheaper on site. Anyway, we are going to be there with the plan B of going to Chiang Mai by bus.
-Other expenses
The reason why we're going to be in Khao Yai for two nights is reading about two safari tours in the National Park: one full day one and the other for a half of a day. The rates for these tours are low in Greenleaf's website and, after contacting them by email, we could confirm they haven't changed: 1500 Baht per person for both tours, including drinks, meals and National Park fees.

Tiger Kingdom's website shows these rates per person: 520 Baht for 15 minutes with baby tigers, 320 Baht for young tigers and 320 Baht for big cats. They talk about a special rate for all three combined, which is what we're going to do, but the rate is no appearing there. We can know there too they have a 200 Baht buffet lunch, which we're not going to miss either.

Then we have our big wish: spending one day with an elephant. There are a lot of elephant farms where you can get a ride on an elephant seated on chairs at both sides of the animal and watching an exhibition of elephants painting or playing football, but we want a different experience. We want to drive an elephant seated on its neck as locals do. The best farm for this seems to be Patara elephant park with an activity called "own an elephant per one day". The problem it is expensive: 5800 Baht per person. Then I found a cheaper farm with seems to be a good experience too in Baanchang elephant park. The activity is similar and they have the option of two persons sharing the same elephant, which is the best option for us as a couple. The activity is like a mahout (elephant driver) training and rate is 2400 Baht per person, a bit over 50€.

These activities are not included in the budget above because, as we use to do, are considered as extras and would go to the expenses while traveling, like meals and gifts. The 1500€ budget is including transport and accommodation. The final amount is a bit over it because of the Phi Phi bungalow and not getting the Krabi-Bangkok flight on time.


Detailed plan, then, is like this
:
| | | | |
| --- | --- | --- | --- |
| | | NOVEMBER and DECEMBER | |
| Day | Night | Morning | Afternoon |
| 26 | Kanchanaburi | Arrival to BKK to 6:50. Floating market | Erawan and bridge on the River Kwai |
| 27 | Khao Yai | Ayutthaya | Evening safari at Khao Yai |
| 28 | Khao Yai | Khao Yai Safari | Khao Yai Safari |
| 29 | Siem Reap | Trip to Siem Reap | Ang Kor |
| 30 | Siem Reap | Ang Kor | Ang Kor |
| 1 | Siem Reap | Ang Kor | Ang Kor |
| 2 | Bangkok | Trip to Bangkok | Bangkok |
| 3 | Bangkok | Trooping the Colour | Bangkok |
| 4 | Chiang Mai | Sukhothai | Chiang Mai |
| 5 | Chiang Mai | Elephant camp | Sunday market |
| 6 | Phuket | Chiang Mai | Chiang Mai |
| 7 | Phi Phi | Phi Phi | Phi Phi |
| 8 | Krabi | Phi Phi | Krabi |
| 9 | Krabi | Phang Nga | Krabi |
| 10 | Krabi | Krabi | Krabi |
| 11 | Bangkok | Krabi | Bangkok |
| 12 | Doha | Bangkok | Bangkok |