- Route plan
Everything started from the wish of doing a route around USA West Coast. It's a round route passing by L.A., San Diego, Las Vegas, Grand Canyon, Death Valley, Kings Canyon N.P., Yosemite N.P., San Francisco and back to L.A. I started to organize this travel for four people: me, my wife, my sister and her boyfriend, but finally this last one couldn't come. The rates are explained here by person or couple.

The first flight searches immediately showed the best rates were for New York. "USA gate" I called it. Then, we should do two stopovers on that airport: when going and when returning. We haven't been in New York and is this kind of places you think it deserves a travel by itself but, as we're going to be there anyway! Then, after being documented about that city I decided three days would be a good stopover for knowing it when returning, as a good stop to make the jet lag when coming back at Barcelona softer. But, as always happens to me, when more I read more options appear and "avarice" comes to me, I mean, the wish of going everywhere. So, I could see Washington was close and check how easy it would be visiting it if we would rent a car for one day. Niagara Falls was a special whim of our lives and I could find one day tours from New York but, as they are so far from the city we should spend a lot of money just for being a few hours in there, so it was postponed for now. Somehow, when I saw Philadelphia is just in the middle of the New York- Washington way I decided to stop there too. Every time I needed more days and these spent in the East Coast should be taken from those in West Coast. So, I discarded Kings Canyon N.P.. It was a pain to discard Monument Valley as it is far from the main route. I found one day tours to Grand Canyon from Las Vegas, which saved some days in the car route. Other spots discarded were Palms Springs, Joshua Tree N.P. or crossing Mexican border to Tijuana.

Route started to appear clear now. Documentation about each of the spots helps when assigning the days to be in each place. Hotels search has something to say here if we want to make the budget lower. For example, we could see hotels in Las Vegas are a lot cheaper in working days than during the weekend while Washington is the opposite as the hotels there have lower rates on weekends. That made me change East Coast visit in order of matching rates with general route and make the stopover at East when going, at the beginning of the travel, instead of at the end. All seemed to fit then, and total price for this travel get lower, but "avarice" kept being there and claiming about that New York stopover at the end and made me check rate options for that stopover be made in Buffalo instead, which is the closest airport to Niagara Falls. It was 85€ per person (hotel included). We were going to miss Niagara Falls by 85€!?

Finally, the route plan (route day number and where we spend the night) definitively closed, is like this, starting at June 6th of 2008: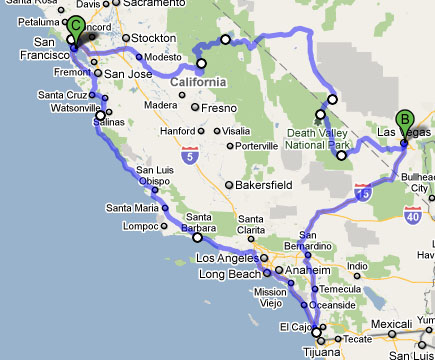 1: Washington
2: Philadelphia
3,4,5 y 6: New York
7: Route by Big Sur
8: On route, as clos as possible of L.A..
9 y 10: L.A.
11: San Diego
12,13 y 14: Las Vegas
15: On route, somewhere betweenl Death Valley and Yosemite
16: Yosemite
17,18 y 19: San Francisco
20: Niagara Falls
21: Barcelona


- Flights
Purchasing the flight tickets is what makes a travel to become to real.

The first, then, was searching for flight options. Our conditions, as always, quite flexible: almost one month of vacation and it should be in summer or close. I'm starting at the end of August so, one year in advance, we have all the chances of looking for the best offers. I understand soon New York is the cheapest destination in USA, as it is the one with more air transit. I can find SWISS and Air Lingus flights in the common search engines by less than five hundred euros per person, round trip, but there is a direct flight Barcelona-New York with Delta Airlines by 500€.

Then I start my search for internal flights with American airlines. I've read they use to be cheap and they seem so. Somehow, Delta airlines website let to use the Multi-city feature for getting a complete quote for all our travel. What a finding! If we take all our flights with them the price is 837.23€. We're talking about 6 flights for 4 ways (stopover in New York for San Francisco-Buffalo and Buffalo-San Francisco flights). I think we're starting to discover the advantages of having euro in historical maximums. Flights are :

06/06/2008 BCN 10:00 NYC 12:45
06/12/2008 NYC 8:40 SFO 12:10
06/23/2008 SFO 21:45 BUF 10:51
06/25/2008 BUF 14:35 BCN 7:50

As you can see, I finally decided to fly from San Francisco at night so I could reduce the budget even more by taking on hotel night off. Flights info is very important in the route plan: it is not the same arriving to one place at 9 than 21. We earn a lot of time when flying to West as following the sun makes we land in New York at 12:45 although we left Barcelona at 10h. Then we must think about jet lag. I'm happy about that stopover in Niagara Falls as we will be able of slow down the 9 hours jet lag between West Coast and Spain, a part of our wish of visiting them, of course.

Also, I join to Delta SkyMiles. These itineraries earn a good amount of miles which I'll look after how to spend them later. I have in mind the chance of upgrading to Business class in our nigh flight, from which I have not a clear idea of being able of resting properly. It seems as something we could do as the first two flights earn miles enough as per do so. As it happens when arriving to San Francisco I'll have twelve days for checking that point.

Another point I keep in mind is we're going to pass by JFK airport in New York (BCN-JFK, JFK-SFO and SFO-BUF and BUF-BCN) and I could take advantage of it for managing the baggage leaving some bag there to be taken later.

We completed flight payment on November, far from travel dates, as I thought rates only could rise from here. Following them up, I must say in January rates were a little cheaper for a while (790€ for the same itinerary) but they rose from March on



- Hotels
After the flights we must look for hotels. The budget for this travel was set on 3000€. I use to search in several hotels web sites and some with travelers' reviews as you cannot keep with just one of them. Also, for work matters I have some benefits for one of them.

I assigned priorities to hotels to sorting the order they're going to be taken. There are 3 nights in route which will be taken that same day as I cannot say where we're going to be yet, but I've checked there are a lot of motels and hotels along the road for these days I'm not worried about them. Therefore, the higher priority is for the hotels on big cities where we're going to spend more than one night.

For New York, my first choice was Pan American Hotel, with good reviews and rates. It seems its unique handicap is the location as it is in Queens, but quite close to a metro station. It was 200€ for all four nights. But, as the time to book came, the rates rose and also I read it takes 30 minutes to reach Manhattan from here, plus the time you take on going to on specific spot once there. For one city there are so many things to see in so less time I came back to Manhattan allocations. It was previously discarded as it seemed all hotels are very expensive and full of problems such cockroaches and noise. Then I found Hotel Belleclaire. It was the opinion of one travelling salesman explaining he tried 8 more expensive hotels in Manhattan before and he thought they were worst. Rates compensated the change from Panamerican as we could be in Manhattan by 350€, in a quiet neighborhood close to Central Park. The only objection is the shared bathroom for that price, as rooms including private bathroom cost twice. I was going to take them anyway but Eva, my wife, wanted a bathroom in room if we were going to be there for four days, so she offered to pay the extra. Therefore, we take 4 nights in Belleclaire hotel by 650€ through hotels.com.

I already had the thought of booking in Excalibur Hotel for Las Vegas as several travelers emphasized that hotel in the Strip and one called Castle Inn for San Francisco. I did my investigation anyway. In Excalibur, the hotel shaped as a white castle with conic colored roofs for the towers, we could get a room by 50€. Luxor, Egyptian thematic hotel, was even cheaper, and NewYorkNewYork and Paris hotels were just a little more expensive, so they could be chosen too. But I finally wanted Excalibur because I could get a room with views to Strip and 32" plasma by 65€. I recall these rates have nothing to do with the ones at weekends. I already looked after being there on Tuesday, Wednesday and Thursday. The cheapest way of booking this hotel was directly from its own web site and pre-paid.

I couldn't find a better option for San Francisco in quality, rates and location than Casttle Inn. So I added to our counts the 89€ by night for three nights until I found the night flight and could take one of the nights off. 178€ went to this hotel through hotels.com.

In L.A. our main visit was for Universal studios so, when checked we could be allocated on Hilton Universal, just besides the Studios, by 119€ per night we granted on that caprice, although the price was quite over the travel average. Then, I found out, nights in Hilton hotels can add miles to our SkyMiles account. We booked through hotels.com.

There are some hotels you like before reading any review about them. That happened looking for Hilton hotels because of the miles discovery. Hilton Garden Inn in Washington avoided me to spent time on a hotels search for this city. Hilton hotel with pool and close to the White House by 95€. I took it at once and it made me do a change on our route for being there on Friday as the same room was rated by 250€ out of the weekend. We booked from its own web site at Hilton.com.

I took fast too Hilton DoubleTree in Niagara Falls. I could check hotel rates on that place are cheaper in Canadian area than in the American one and, also, that side has got better views of the falls too. It was over average but as it was our last night and we could save 89€ in a night flight we added the 154€ of this to our counts. I think we're going to need a good rest here. The rate is for a room with Jacuzzi and views to the falls. We used its own web site for this, in Hilton.com.

For Yosemite, the choice was clear too and I booked fast as I read it get full very quick for summer. Hotel Wawona is so charming that even is visited by some tours around the National Park. I could see in its own web site we could spend the night in there by 100€. But when I called in November for booking it I found out there was not already vacancy for rooms with bathroom. With no second thoughts, I immediately booked two rooms with shared bathroom by 80€ each. Eva was fine with a shared room for just one night.

Then, I only had to take one hotel for Philadelphia and another for San Diego nights. Due to the caprice for some of the hotels and the stopover in Niagara Falls point we will be definitively over those 3,000€ of budget I looked directly among the cheapest hotels for those cities. I found Confort Inn Downtown Hist in Philadelphia, close to the historical area we want to visit, by 90€ and California Suites in San Diego, with pool, by 80€, quite far from downtown, though. Reviews were nice for them but we were going to go to them with low expectations. It's going to be just one night on these anyway. We booked these through booking.com.

We haven't reach the 3,000€ budget. I know the numbers seem to be wrong then, but the rates here are the ones before applying the special discount I can get for job matters in hotels.com I mentioned at the beginning. You could notice the bigger ones are booked through that website. The two hotels booked through Hilton.com and the two through booking.com are going to be paid when checking out once there. So we leave for June a cost of around 500 in booked hotels, plus the three nights on route.
-Car rental
For being able of following the plan it was important to rent a car on East Coast and indispensable for the West Coast.

For East Coast I found expensive rates. I've read about the importance of checking CDW and SLI insurance were included. After searching a lot I accepted paying close to 100€ per day on this 3 days trip. So, for choosing one agency I forgot about rates and focused on most comfortable place to deliver the car. I couldn't find it on web sites, so I used Street View in Google maps for exploring around our hotel in Manhattan and I found a Hertz office just one block from the hotel. In Hertz, if paying in advance, the three days are 232€.

For West Coast, I've read car rental was pretty cheaper. And thank goodness, as with the same rates than East Coast these 11 days would be a real pain. Besides, I wanted a 4WD for being able of climb to Yosemite and going around Death Valley, so the expectations, in terms of expense, were not good. I found the best rates in Dollar, less than 200€. It was a good rate, but no insurance included. The bad news came when I looked for rates including insurance: 330€ and no way of taking a 4WD one! I really thought my only chance would be accept it, but I kept looking and reading chronicles from people doing this West Coast route and one of them took me to one of those tricks meaning directly money. It seems these agencies have analysis of risk depending on drivers nationality, so rates change depending of drivers country. Fortunately, this control is based on their web site franchise. So, when checking the rate for the same car but from their UK website (www.dollar.co.uk) I found cheaper rates, and including insurances! With this trick I could rest a 4WD Jeep Liberty for 11 days with all the insurances included by $220 (130€!!) with the same company and all, only by performing the booking process from another country's web site. I could set my country as Spain and nothing changed, as the rates are showed before introducing your personal data.
-Other expenses
We should find a trip to Grand Canyon from Las Vegas. Finally we've chosen the Grand Canyon DeLuxe tour of Scenic airlines which includes picking us up at hotel and delivery us on it too. I've read the better area is South Rim and this tour takes us to there. It's 170$ per person.

Looking shows in Las Vegas to watch when we're going to be there, we could see Cirque du Soleil ones are very expensive and there are a lot of them, but I cannot resist to the chance of being in an Elton John concert in the Coliseum of Caesar's Palace the Wednesday.

This travel has a lot of highlights, but visiting Universal Studios is very special for us. I cannot say, but it's possible this whole travel is going to be make in order of spend one day in there. With that, it's not strange we looked after the best experience we could have and that's the reason we finally took the VIP Experience. It's almost 200$ per person including breakfast and lunch but, overall, the chance of going down the tram to be in the movie sets and the objects warehouse. Thanks to the euro rise it's 115€ for us. With euro currency at 1.6 dollars the whole travel comes with a 33% of discount
Detailed plan, then, is like this:
| | | | |
| --- | --- | --- | --- |
| | | JUNE | |
| Day | Night | Morning | Afternoon |
| 6 | Washington | Arrival to NY at 12:45 | Drive to Washington 4h. White House and Hoover |
| 7 | Philadelphia | Lincoln and Washington mem.,Smithsonian,Capitol | To Lancaster and Philadelphia 3h, Art Museum |
| 8 | New York | Historic Park and 2h to New York | Central Park |
| 9 | New York | Times Square, Library and 5th Avenue | Rockefeller Center and Broadway |
| 10 | New York | South Manhattan, Pier 17 and bridges | Chinatown, Little Italy and Tribeca |
| 11 | New York | Museums | Cruise |
| 12 | On route Big Sur | Arrival to SF and drive to Monterey | Karmel, Big Sur |
| 13 | On route Big Sur | San Luis Obispo | Sta Bárbara Malibú, LA |
| 14 | Los Angeles | Sta Monica and Venice Beach | Chinesse theater, Hollywood |
| 15 | Los Angeles | Universal | Warner |
| 16 | San Diego | Disneyland and to San Diego | Balboa park and down town |
| 17 | Las Vegas | Wild Animal park | Drive to Las Vegas 5h by I15 |
| 18 | Las Vegas | Hotels | Elton John concert |
| 19 | Las Vegas | Grand Canyon tour | Hotels |
| 20 | Mammoth Lakes | Death Valley | Death Valley |
| 21 | Yosemite N.P | Yosemite | Yosemite |
| 22 | San Francisco | Mariposa Grove | Golden Gate Park and bridge |
| 23 | San Francisco | Pier 21 | Tram |
| 24 | On flight | Alcatraz | Flight to Buffalo |
| 25 | Niagara Falls | Arrival to Buffalo | Niagara Falls |
| 26 | On flight | Maid of the Mist and NY flight | BCN flight |