- Route plan

I never thought about traveling to New Zealand. I did think about going to Oceania, but basically for Australia. Somehow, a family request made me plan a travel to there and I felt in love of what I was finding out. As I kept looking around internet I could find better prices for campervans than on the first research and offers for the flight which made me think about a budget attractive enough as per boarding to a travel to the antipodes and organizing it, this time, for 8 people. The budget was set under 1500€ per person.

The flights were more relevant for the route plan than ever as, going that far, we would have to look stopover options. The first offer I chose, 10 months before traveling, was a Barcelona-Sydney return flight with two stopovers of 8 hours in Beijing, which we could take advantage of to visit the Great Wall when going and the Forbidden City when returning, and we could visit Sydney as well. But flight rates between New Zealand and Australia were the reason for leaving these kinds of options. Air China could take us to Sydney by 990€, but any flight between Sydney and a city in New Zealand was over 300€.

The best option, then, was finally looking for a flight to New Zealand from an European city and looking a low cost link from Barcelona to that city. The most options are in London, but it has the problem of changing airports, as low cost airlines don't use Heathrow as airport while it is the main airport for the long distance flights from London.

A sample of cities for stopover would be then: Singapore, Kuala Lumpur, Seoul and, mainly, Hong Kong. All Asian ones as, as far as I could check, the flight rates were better that way than following the American way.

On despite of that, we finally would take both ways when checking the options from Air New Zealand. Flights from London were a lot cheaper than the same from Barcelona, where they need to use a link from a partner airline. Also, their multidestination online tool is fantastic and we could manage a trip around the world when finding out the cheapest option for our desired dates was going via Los Angeles and returning via Hong Kong.

Talking about desired dates, they were fixed quickly. The availability of the group and trying to avoid the winter itself in the South Hemisphere, made September as the best month for us. Also, including September 11th and 24th helped to having more days as they're bank holydays in Barcelona.

Air New Zealand website showed a 1020€ rate for the mentioned flights, the good thing was the price kept the same if we used the flights letting us to stay for one day in each city and we could choice different outgoing city in New Zealand in order of being able of doing am itinerary Northern Island-Southern Island or Southern Island-Northern Island as our will.

We find the chance of visiting Sydney as well when checking on that tool that changing Christchurch-Auckland and Auckland-Hong Kong flights by Christchurch-Sydney and Sydney-Hong Kong was just 30€ more. Unfortunately, Sydney was finally removed from the itinerary because of the reasons explained on "Flights" section. This forced a Northern-Southern route as well. The driving route was the main work in the route plan.

I got a list of must-do's soon for both islands: Hobbiton, Rotorua, Tongariro, Kaikoura (whale watching), Glaciers, Milford Sound, penguins and swimming with dolphins or seals. For this last one Kaikoura could do the work until we could check that activity is not offered in September. At the beginning, we took Oamaru for the penguins and Akaroa for dolphins. At that moment, we were always thinking on a South-to-North itinerary as the campervan rentals could be really cheap following this way, or even free with the ferry trip paid on what the companies call "reallocations".

Bay of Islands was discarded from the very beginning because of its cost in time versus its lower attractive for winter season. Also, places as Dunedin, The Catlins and Abel Tasman N.P. were set apart with a lot more of pain.

The route plan was concentrated in the Southern Island to finish in a quick three days route through the Northern one in Tongariro, Rotorua and Auckland, and we could even take the last night in Auckland if the flight left late. The plan was taken from a line linking Christchurch-Akaroa-Oamaru-Te Anau-Queenston (after visiting the Milford Sound)-Glaciers-Greymouth-Kaikoura-Picton-Tongariro-Rotorua-Auckland. This marks a minimum of 11 nights, although I was aware some days meant several kilometers to keep this route.

I still had spare days to use and I knew daily plans in New Zealand can be broken easily because of weather matters: cut roads, canceled activities, ... So I needed flexibility. Finally we were going to do the route from North to South, and new must-do's appeared, like the Cathedral Cove, in Coromandel, or swimming with dolphins in the Bay of Plenty, hotter than anywhere in Southern Island. So, our itinerary through New Zealand, starting early in Auckland, was the following: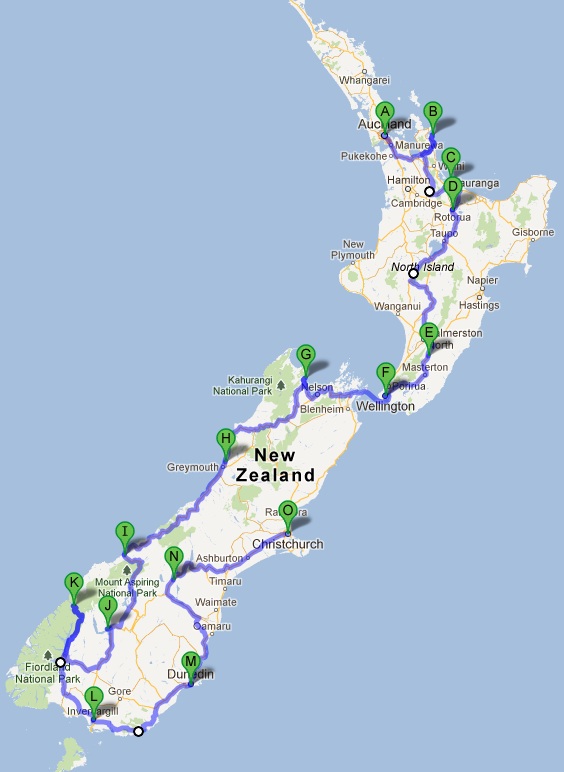 1: Auckland, Coromandel and night in Tauranga, as next day we will go for the swimming with dolphins early.
2: Tauranga, Matamata and ending in Rotorua
3: Visiting geothermal areas in our way to Tongario N.P.
4: Driving to Wellington, where we will spend the night to take the ferry early next day.
5: Ferry, Marlborough and night in Kaikoura, as next day we will go early for the whale watching.
6: Whales and driving across the island to the West Coast through Lewis Pass, night in Greymouth after visiting the Pancake Rocks.

7: Driving south to the glaciers and make a tour over one of them, then driving to as far as possible, Haast or Wanaka.
8: Go on our way to Queenston and night in Te Anau, where we can visit the glow worm caves.
9: Milford Sound cruise and driving to Invercangill.
10: Driving through The Catlins ending in Dunedin
11: Driving to Tekapo Lake, in Mount Cook N.P.
12: Reaching Christchurch

And we still had two spare days to having that flexibility. The final itinerary appears from using these two days within the itinerary: one for the first day, splitting the ship in Tauranga and Hobbiton in two days and being able of making things easier for the first day with jet lag and first driving of a motorhome. So day 1 was split in two days (A, B and C in the map) with night in Coromandel. The other day would be used splitting Queenstown and Milford Sound visits (J and K in the map).

I've got a clear idea about our itinerary is quite liable until reaching the Southern Island, but we can use the days in Mount Cook or The Catlins to save the problems of time.

And that was like this until a few weeks before leaving, where we were effusively recommended for Abel Tasman N.P. instead of Kaikoura from someone was already there.

The budget kept around 1400€ per person, out of activities.

So, finally, the definitive route plan (number of day and where we sleep) is the following, starting by September 8th of 2012:


1: Flight
2: Los Angeles
3: Flight
4, 5, 6, 7 y 8: Northern Island
9, 10, 11, 12, 13, 14, 15 y 16: Southern Island
17: Flight
18: Hong Kong
19: Barcelona
At the map above, there is the whole itinerary through both islands by road in motorhome.
- Flights

The first thing is always purchasing the flight tickets as the arrival and leaving date and time is the range for the route plan.

On my first searches, I was attracted by an Air China Barcelona-Sydney flight by 995€. Then I only should look a good flight between Sydney and any city in New Zealand between the different companies with these routes. The advantage of this plan is we could manage the New Zealand's starting and ending cities for our driving itinerary. Also, the flights, when going and returning, allowed an 8 hours stop in Beijing, letting us enough time to visit the Great Wall and the Forbidden City. Somehow, the cheapest flights between Australia and New Zealand were over 300€, which killed the budget

The lack of low cost options in Oceania made me look to another side: flights to New Zealand from an European city, to which we indeed have low cost flights. During some weeks the best option seemed to be a Korean Air London-Auckland flight by 1090€, with the great advantage of haviong flights leaving from Gatwick airport in London. Those are not daily flights, though, and forced us to change our dates. The stopover is in Seoul for these flights. Somehow, they soon raised rates to be over 1200€ and putting it out of the table.

Finally, the chosen one was Air New Zealand because by the cheapest rate in the market at that moment, it allowed us to travel around the world, going by one side of the planet and returning by the other. Also, rates don't change if we do a one day stopover in each link city: Los Angeles and Hong Kong. The rate here was 1020€.

Playing with the multidestination tool of Air New Zealand website I found out we could get a 8 hours visit to Sydney by just 30€ more and that was the chosen option. But, Sydney-Hong Kong flight was not an Air New Zealand one, but "hired" to a partner company: Virgin Pacific and it worked different than the rest of flights. For example, I discovered the rates per person raised when trying to purchase tickets for more than 4 people and, also, the total rate for the whole itinerary raised 200€ one week later because of this flight. The solution was removing the Sydney option from it. I can add here, those 200€ more was the cost of stopping some days in Cook Islands in our way to Auckland from L.A. An attractive option for someone with more days to spend than us.



Once purchased flights in February I kept looking to the offers of Singapore Airlines and Emirates, which at the moment of the search had very interesting rates for flights in our spring until June: Barcelona-Auckland by 1180€. Cathay Pacific also showed very good offers if flying on the first two quarters from 900€ between London and Auckland. But none of them had offers for September better than the one we already got.

Finally, then, Air New Zealand flights are like this, by 1026€:

09/08/2012 LHR 16:15 LAX 19:45
09/09/2012 LAX 22:30 AKL 6:30 +2
09/24/2012 CHC 20:20 HKG 7:30 +1
09/26/2012 HKG 10:00 LHR 16:15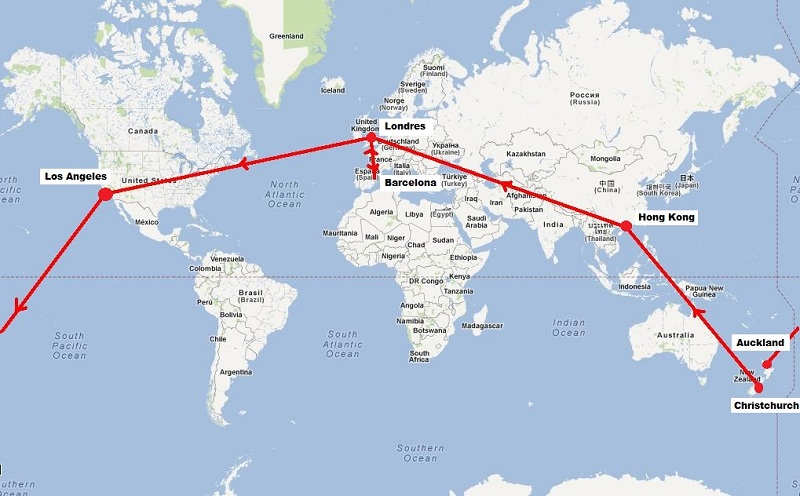 We must add here the low cost flights between Barcelona and London. Ryanair had same rates than Easyjet, both from Barcelona airport and we choose Easyjet, which it was already my favorite option before checking prices. The flight for September 8th has better rate flying to Stansted, while the best option for the one on September 26th flies from Gatwick. As I've already looked rates for private transfers between London airports, the specific airport to use is not a problem here. I kept 4 hours between the landing time in one airport and the taking off time in the other, which should be enough for transfers taking between 80 and 60 minutes. Rates are 47€ for the going flight and 43€ for the returning one, which we must add 30€ for the baggage to. It gives a total of 120€ per person. Somehow, at the moment of purchasing them, the first flight rate has been raised by 10€, so 57€ finally due it was still the best option. So, these Easyjet flights were finally purchased by 130€ per person:

8/09/2012 BCN 11:10 STN 12:35
26/09/2012 LGW 20:00 BCN 23:05

The total price in flights for this travel: 1156 € per person.


- Hotels
This section is small for this travel as we're going to spend the most of the nights in our own vehicle: a motorhome. Somehow, there are two nights for solving yet: L.A. and Hong Kong ones.

As always I start searching on Booking.com.

In L.A. I had a clear idea from the beginning: a hotel close to the airport is cheaper and gives us a logistic advantage for our plans. We will rest after landing from a very long day spent in cars and planes. Next morning we want to take two rented cars and go first to Santa Monica, which had good communication by highways to the airport. Between the lot of hotels close to LAX international airport we've chosen the Travelodge Hotel at LAX, two blocks from the airport, with swimming pool, breakfast, parking and internet included on their 75$ double room rate (85$ for a triple room). We've booked two triple and one double room with a total price of 245$ + 15% of taxes.

In Hong Kong, the allocation options are huge around the city and the different islands. The best value for money we think is the Nina et convention Centre. It is a 5 stars hotel in a skyscraper with an elevated pass way (on 30th or 40th floor) communicating it with the shopping mall besides.

Here we paid 4 double rooms as they show a better rate than two triples and one double. It's 78€ per room. It has a metro station just in front of it which links with airport and downtown.


-Car rental
With the route plan closed, we cannot go for reallocations as they are used for reallocating vehicles from South to North and we're going to do the opposite route. As we are a big group with fixed dates, it was more difficult for us waiting for them.

Once the flights were purchased we looked often at Juicy Rental website, which were the chosen ones, waiting for September offers. Somehow, about 4 months and a half before departure date, we found an offer for Cheapa Campa motorhomes through the British website Motorhomebookers.com, which we could get a luxury motorhomes, with toilet and shower and all the extras by less than the total price from Juicy. So we go fast and paid deposit inmediately.

They're real apartments with everything we could need included: cooking utensils, crockery, cutlery, linen, towels, doonas, pillows,...

I must say here it was no rush for this offer as it was kept until the end.

There is another car rental: in L.A. and for a single day we will get two cars to move fast between the spots we want to visit. Our experience with Dollar in 2008 makes us repeat with them and go directly to their European website were we could choose cars like these by around 30€ (7.5€ per person):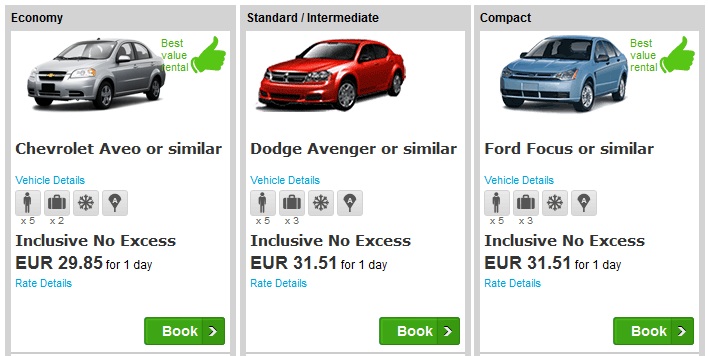 We've paid two of the one in the middle, all inclusive. Dollar office at LAX airport is one block from the Travelodge where we're going to be accommodated.
-Other expenses
The price for the activities is going to be showed on daily pages, but there are some other fixed expenses for transportation, as the transfers between airports in London.

We've booked - and paid to avoid exchanging pounds - with the company BA transfer (http://www.batransfer.com), because we've found the best rates with them: transfer from Stansted to Heathrow Terminal 1 is 100

£ and from Heathrow to Gatwick North is 80

£ for all eight persons. We've been lucky with the number of people in our group here, as 8 seems to be the best number for minivans. A total of 180

£ for these needed shuttles is like 30€ per person.

Although it is not an expense by itself, I'm going to mention we've opened an account on New Zealand's bank BNZ through their own website: www.bnz.co.nz. This is going to make a lot easier the payments for the group as we're going to be delivered a debit card on arrival. BNZ has an office just in front of Auckland's international airport. We've send 800€ each to this account which we expect to be enough for paying all the activities, fuel, ferry and holiday park nights.



Detailed plan, then, is like this

:




| | | | |
| --- | --- | --- | --- |
| | | SEPTEMBER | |
| Day | Night | Morning | Afternoon |
| 8 | Los Angeles | Londres | Arrival to L.A 19:45h |
| 9 | In flight | Santa Monica | Hollywood |
| 10 | -- | -- | -- |
| 11 | Coromandel | Auckland | Coromandel |
| 12 | Tauranga | Coromandel | Matamata |
| 13 | Rotorua | Tauranga | Rotorua |
| 14 | Tongariro N.P | Rotorua | Taupo |
| 15 | Wellington | Tongariro | Wellington |
| 16 | Abel Tasman | Ferry to Picton | Marlborough |
| 17 | Greymouth | Abel Tasman | Punakiki |
| 18 | Haast | Hokitika | Glaciares |
| 19 | Queenstown | Wanaka | Queenstown |
| 20 | Milford Sound | Queenstown | Milford Road |
| 21 | Invercangill | Milford Sound | Te Anau |
| 22 | Dunedin | The Catlins | Dunedin |
| 23 | Twizel | Oamaru | Tekapo Lake |
| 24 | In flight | Tekapo | Christchurch |
| 25 | Hong Kong | Hong Kong | Hong Kong |