- Route plan
The option of taking my parents to a travel to somewhere appeared and I immediately thought about London as we'd already been there. Knowing their interest by ancient Egypt I knew they would love visiting British Museum. Also, the budget would be low enough as per a very feasible travel.

Apart of London, I had the visit to Stonehenge in mind. The problem is it is quite far from the city and isolated from public transports like train or bus. It could be made if a car was hired, but then we could take advantage of it for visiting something else around. On the list were spots like Windsor or White Cliffs of Dover, but I finally chose Oxford due to how attractive it looked to me when reading about it.

Salisbury appeared as destination for our first night in the country as it is close to Stonehenge and has an impressive Cathedral, with the tallest spire of the country.

The plan then is taking the car when arriving to Gatwick, the best airport for this route, and driving to Salisbury. We could visit the city before going to sleep for driving to Stonehenge the next morning, and then to Oxford, where we would spend the rest of the day until going to our hotel in London after delivering the car.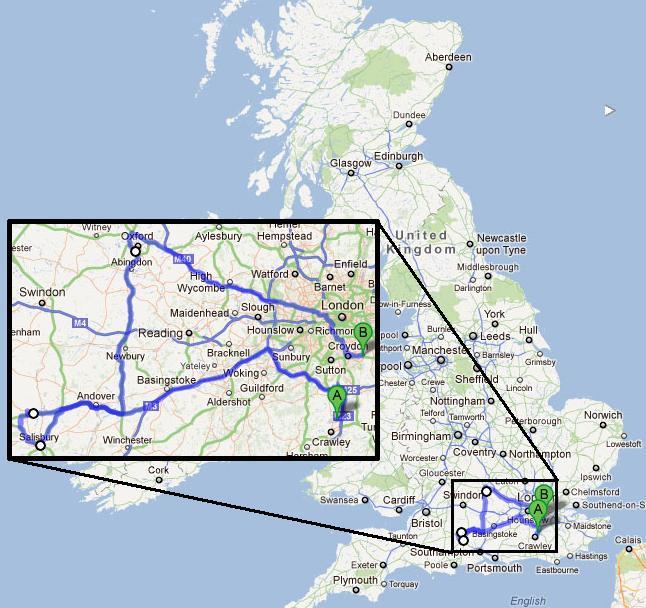 As it was clear for us to use three days for visiting London, we need five nights and the route plan
(route day number and where we spend the night)
is like this, starting by November 30th of 2009:

1: Salisbury
2, 3, 4 y 5: London

The budget for this travel was set to 500€ per couple, although the rates for London hotels could make us to go beyond it. Somehow, when finding good accommodation out of the city but with good connections to it, we even could set the budget even lower: 440€ per couple, including flights, hotels and car. The currency exchange advantages us too as, at the moment of the payments, it was at 0.92€ per pound, very close of the parity.

- Flights
This time the destination was chosen with the idea of using a low cost airline. Easyjet is the one I prefer and it flies from Barcelona airport but, for the chosen dates, two months in advance, Ryanair rates from Girona airport were unbeatable. We're not talking about the first rate, which showed an incredible amount of 4€ per flight, but the total: 52€ per person, return trip and including the baggage, which is far the most expensive here.


Finally, then, return flights are like this:

11/30/2009 GRO 13:55 LGW 14:55
12/05/2009 LGW 15:30 GRO 18:30




- Hotels
Looking for hotels seems a simple task this time: one in Salisbury and another one in London.

I found the one in Salisbury soon, as it is not a big place with a lot of hotels, and when searching in booking.com I was attracted by a guesthouse with good price and even better rating from customers. I could double check this last point in Tripadvisor: people end loving this place. So I chose Rokeby Guest House.

I found it was just one standard room available by 65£, but we could still get a superior room by 69£ for my parents. That is what we've booked, as it must be paid there when checking out.

London was more complicated. My plan B was the hotel we staid when we were here some years ago: Sleeping Beauty. It's a good value for money but a pretty bad location. It's an area so outlying that the Metro even doesn't get there. You must take a bus for reaching the end Victoria line's station: Walthamstow Central. It's at the far North of the city and for this travel we're more linked to the South, where Gatwick airport and car rental office are.

Somehow, in London city I couldn't find anything of that value by less than 100€ per night. Solution, then, was looking outside of the city. Croydon is the city my attention went to, because it is in the middle of the way between London and Gatwick, because it has got good connections to London city center with a train to Victoria Station every 15 minutes and because I found a Hotel Hilton by 54£.

We've booked four nights in two double rooms in Hilton Croydon by 432£.


Hotel expenses then are like this:

-Rokeby Guesthouse: 65£
-Hilton Croydon (4 nights): 216£

The total per couple, with a good currency exchange for these dates, is around 305€.

-Car rental
We needed a car with all the insurances for two days to be picked up and delivered in Gatwick airport. There are a lot on sites in the web for car rental in UK. I found the best quote out of the most known franchise, with Green Motion, which allows me to use a Volkswagen Polo for two days by 47.30£.

There is an excess of 500£ here, though, but it can be easily avoided by paying 9.50£ more, to be paid when booking, which we've done. This insurance is hired to AIG and we've received a PDF file with all the documentation from it.

Therefore, we've got the car we wanted by 60€ approximately, 30 by couple.

-Other expenses
The only fix expense we've been looking at is the London Pass, which we already used when our first visit to London four years ago. Somehow, I didn't remember it was that expensive, so I've been looking for alternatives.

Public transport is expensive in London, so we need the Travelcard for using it with no limits in three days, but the entrance in our visits could still be an important expense. Until I found a touristic agreement in railways and you can get 2x1 deals in a lot of attractions and monuments just by having a valid Travelcard and got the coupons previously printed. So we bring all the coupons printed from Days Out Guide website and I've checked we can get our Travelcards in East Croydon train station.

A Travelcard for three days and all the zones – needed because of our location in Croydon, belonging to zone 5 – Off Peak is 21.20£ per person. The "Off Peak" option makes the price quite cheaper and makes you to use it since 9:30 AM. As we don't want to wake up that early it was the adequate option for us.


Detailed plan, then, is like this:
| | | | |
| --- | --- | --- | --- |
| | | DECEMBER | |
| Day | Night | Morning | Afternoon |
| 30 | Salisbury | Baggage ready | Flight to London and visiting Salisbury |
| 1 | London | Stonehenge | Oxford |
| 2 | London | Buckingham and St James Park | British Museum |
| 3 | London | London Bridge and Tower | Trafalgar Sq. and National Gallery |
| 4 | London | Westminster and Thames | British Museum |
| 5 | Home | Croydon | Flight to Barcelona |