- Route plan
Egypt has been a target for long time. I had checked the chances a lot of times and the feeling was it was one of a few destinations where it wasn't worth your while to go by your own. Flight rates were expensive and I had the feeling of an Egyptair monopoly level which was advantaging to tour operators. I even thought about taking a basic, but cheap, package for travelling to Egypt just for using the planes because the package price was cheaper than my price purchasing flight tickets.

Visiting Jordan, besides Egypt ,after making my investigation about that country when the chance of a stopover there while traveling to Thailand came up, make me look deeper. Also, some Jordan spots were a dream for my parents, which I wanted to do this gift to.

Then I've found out one of the best european low cost airlines, Easyjet, has three destinations in Egypt: Luxor, Hurghada and Sharm El Sheikh. Using these routes would save a lot of money on flights with the disadvantage of be forced to spend two nights in London, one for each way.

Somehow, as my plan started to be a route I should look after arriving to one point and leaving from another point. The route draft was an itinerary starting in Amman and ending in Luxor.

The end in Luxor was pointed by the Nile cruise, which seemed the most expensive of the whole travel. There are two options here, stopping both on the same spots along the Nile trip: 4 nights from Luxor to Aswan or 3 nights from Aswan to Luxor. I don't know if the difference in nights comes from sailing along or against the river tide
or the timing of Nile lock at Esna, but being the rates per person and night, you can save one night by taking Aswan to Luxor route, so the cruise is 25% cheaper and, obviously, you save a day too, which is a great advantage when you are in a tight schedule.

I was starting to get a clear draw: from an initial point of Amman, go all over Jordan, North to South, then enter to Egypt from Sinai, then go to Cairo, then Aswan, do the cruise and returning from Luxor with a night in Gatwick airport, in London. The time seems optimized but still some loose ends to tie.

Additionally, I couldn't leave out the chance of visiting Jerusalem. I thought on it from the beginning as a two days trip from Jordan, as I could read a lot of people do, but finally Jerusalem became the starting point when I found 100€ flights to Tel Aviv with Spanair.

With all the commented points in mind, the budget was fixed to 1500€ per couple, shared on three parts: 500€ for flights, 500€ for hotels and the last 500€ for Nile cruise.

The how-to's to solve were: going from Jerusalem to Amman, moving in Jordan, cross from Jordan to Egypt, Sinai trip to Cairo, trip Cairo-Aswan, return trip to Abu-Simbel and hiring cruise by our own. Just a few of questions...

Moving in Jordan was solved after reading there is no problem on driving a rented car around that country. I was not worried about Abu Simbel trip as it seemed easy to take a cheap trip once in Aswan. I found a couple of local travel agencies which let me hiring Nile cruises through Internet.


At the beginning it seemed the only way for going from Cairo to Aswan was an Egyptair flight, but it was a pain paying more for the internal flight than the ones from and to Barcelona. Until I read about the sleeping train. A luxury train where you can have your own room, and dinner and breakfast included in price. The only drawback of this option is you cannot book or purchase tickets by Internet. You must purchase the tickets in Cairo train station, with the potential problem of a "no vacancy" answer once there. I always could use the flight as an expensive plan B.

I got two options for Egypt entrance from Aqaba: ferry from Aqaba to Nuweiba or by land, crossing two borders in a row: Jordan-Israel and Israel-Egypt. Although it could seem the opposite, the shortest option is the last one, but which option is the quickest and/or cheapest?. I don't know ans probably I won't know after the travel either. I've read a lot about it and it is not clear: the expenses are similar on both and depends a lot on the taxi rates you get to make a difference; about the time, it seems the hours taken by the ferry is a lottery where one uses to lose. Once got all the information, what I can say is, crossing by land is the most liable option. So, we chose this option because we have the idea of resting on a resort in Taba, the city in the border, too. We must to solve egiptian visas in our own country, though.

There are several options for going to Cairo across Siani peninsula, which is good: by taxi, by rented car, by bus and by plane. The chance of hiring a car is the most confortable for us and would be the chosen one if could find a way of doing it by Internet, but I can only rent in Sharm El Seikh on the companies with a website, and that city is on the other side of the Sinai. I've read about hiring companies in Taba but it seems I only will know rates and details once there. As second option, unless we can find a good rated taxi trip - which seems quite impossible in sinai - we have 8 hours bus.

We only missed to choose the border crossing from Israel to Jordan. The shortest to Jerusalem and Amman is Allenby Bridge with the only drawback of having to bring Jordan visa from our own country, which is more expensive. This was the chosen one until I found out something, once the itinerary was closed, which went against our plans for the first days.

The itinerary was closed like this, or at least that was what I thought:

- Arriving to Tel Aviv and 3 nights in Jerusalem.
- Crossing to Jordan, picking rented car up, visiting Jerash y night in Amman
- Visiting Amman, Madaba and Mount Nebo, night at Dead Sea
- Going to Petra and 2 nights there
- Visiting Wadi Rum and night in Aqaba
- Cross to Egypt and one night in Taba: beach in Dead Sea in All Inclusive
- Trip through Sinai to Cairo and two nights there
- One more day in Cairo, but night in sleeping train to Aswan
- Visiting Abu Simbel and Aswan
- Nile Cruise for three days
- Visiting Luxor and flight to Gatwick, in London, night at hotel in airport and flight back to Barcelona next morning.


But still changes came up to this plan. We liked a lot Taba hotel and it was thought for a rest before starting to visit Egypt as the second half of the travel. Somehow, if we wanted to be a useful rest we should spend two nights there because one night was a transit night (arriving at evening to leave early next morning), so no relax and no taking advantage of All Inclusive status. Where could we taking that night from? I took it from Amman. If we will visit Jerash after border crossing we can end that journey in Dead Sea. We will be able of passing through Amman, which is a dispensable visit.

Luxor-Gatwick flight rate started to rise. I thought I could take advantage of Egypt revolution which made tourism in that country to be much lower. That could make the travel cheaper (I'm not crazy, I just was sure that situation would be gone for long in 9 months). But prices kept rising until, at flight purchase time, Easyjet return flight was not an advantage anymore for my dates.

I was between different options which I'll explain on flights part below. Finally I chose the chance of taking my parents to another wonder we've already know with a stopover in Athens. This was not the cheaper option, counting we needed two hotel nights in order of being able of visiting Acropolis. This was not the most handy option either as I was forced to take another night from our itinerary. This time I took the one in Aqaba because if we have already got egyptian visas we will be able of arriving to Taba hotel the same day we visit Wadi Rum. I was forced to split Cairo visits as well because we should flight from Cairo instead of Luxor, so we are going to be in Egypt capital a second time at the end of the travel. As Athens flight is at afternoon, we've got a whole morning to spend in the city. The idea was to use sleeping train again for Luxor-Cairo trip, but a trick I found out for Egyptair flights let me book it by plane.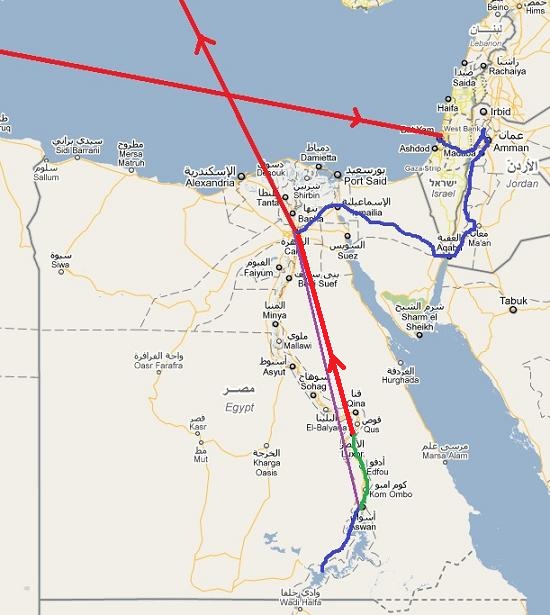 At last, the general route plan (day number and where we spend the night), definitively closed, is like this, starting by October 6th of 2011:


1, 2 y 3: Jerusalem
4: Madaba
5 y 6: Wadi Musa
7 y 8: Taba
9: Cairo
10: train to Aswan
11: Aswan
12, 13 y 14: Nile Cruise
15: Cairo
16 y 17: Athens
18: Barcelona
In map at right, car trips are showed in blue (rented car, taxi, sherut, bus, ...), flights are showed in red, boat trip in green and Cairo-Aswan train in violet.

Finally, after failing some points from initial plan, as Athens stopover, we've changed the initial 1500€ budget to 1800€ now.

Somehow, I must explain, for other people can use the information I learnt for their own benefit, three basic changes on this plan can make this travel, visiting the same spots in Jerusalem, Jordan and Egypt, and almost using same hotels, with a budget of 1000€ per couple!, which is an amazing price which I couldn't use.

The three changes are:


- With enough time in advance, taking the Easyjet flight from Luxor, spending one night in a hotel in Gatwick airport. This flight can be easily (and "easily" means several months earlier) found for 80€ in high season, but could be less, and even less for low season. The reduction by this point is clear: 400€ for return flights + 112€ for two nights in Athens hotel + 66€ local flight Luxor-Cairo=578€; versus 160€ Luxor-Gatwick Easyjet flight + 50€ good hotel in Gatwick + 50€ Gatwick-Barcelona flights= 260€. íSaving more than 300€!

- With enough time in advance, or for non-special dates, booking room in hotel Maison d'Abraham in Jerusalem: 18$ ppn = 75€; versus 258€ for the guesthouse we've found with vacancy for our dates. íSaving almost 200€!

- Far from a Nile cruise whim, you can visit the temples between Aswan and Kom Ombo by road in one single day and spending two more nights in Luxor. On this city allocations are cheap and you can find good hotels for 30€ per room. In an email from the hotel we've booked at Aswan I can read this trip to Luxor by private car for less than 10€ per person. Then, you should change our 460€ cruise by 30+30+20=80€. íSaving almost 400€!

As always, this budget is about allocation and transports only.
- Flights
The departure one way flight was chosen quickly. I looked for a Barcelona to Amman flight, but as Royal Air Jordan would be a good option for a return flight (two hundred and a big something euros), for a single way it was more than 200€. Vueling offered a better price for one way flight, but we needed something below considering we marked 500€ as budget for flights, therefore, per person, they couldn't be beyond 250€. Due to the idea of visiting Jerusalem on route, I checked rates for flights to Israel and then I found the incredible Spanair prices, which were set to 40€ for all October flights to Tel Aviv, although the final price was 100€ for those tickets, after including taxes and extras. This price left us with 150€ for the returning flight. The only "but" of that flight was the time as it flies Saturday nights, landing around 1 AM. Somehow, at the time of purchasing the tickets on Spanair website at the middle of March, I was shocked by the fact that when I tried to take 4 tickets the price was twice their value. After some test I found out buying 2 or 3 tickets they kept their price, but if I selected 4 then the price for all of them was set to 200€. One possible solution was to buy 3 100€ tickets and one 200€ one, but finally I chose to change the date: next Thursday, which kept the 100€ price for all four tickets. Also, I got the benefit of an earlier flight, even it landed at night, at least, it was not at small hours and, additionally, one of the three days we would spend in Jerusalem was going to be a Saturday, so we could live a Sabbath there.

Somehow, this change was going to provoke a problem later. Two months later I found out that sabbath wasn't an ordinary one but the one called "Saturday of Saturdays". It is the bigger holyday in the country: Yom Kippur. On that day, no vehicles are running on any road or street of the whole country, the borders and airports are closed and they even close radios and tv channels. The country is closed. The problem is going without knowing what we will be able to visit that day. Christian temples seem to be opened, though.

Returning flights seemed quite clear since the beginning. Actually, we're closing the route in Luxor because Easyjet has flights to Gatwick for 80€. Somehow, those prices started to rise and at the moment of purchasing them, they were beyond 120€. That made me look for another plan here. The travel was thought for leaving to Israel on Saturday and taking this return flight on Monday. Actually, Easyjet only has two Luxor-Gatwick flights per week: Mondays and Wednesdays.The October 24th flight cost 189€ at the beginning of July. Somehow, if the travel would be set for a couple of weeks before, 4 months in advance, the October 10th flight cost 60€.

Anyway, taking the explained flight to Tel Aviv and discarded Easyjet as returning option, the travel changed from being Saturday to Tuesday to be Thursday to Sunday. Looking flights for those return dates I ended calling to Spanair because their round flight Barcelona-Cairo rate was 299€, as a one way flight Cairo-Barcelona was on 239€. This is typical for common airlines and is a way of forcing you to take both round trips to them, but another typical behavior is to offer a special price on multiple destinations, which is, if you take both round trips to the same airline but arriving to and leaving from different cities, they use to do an average price. This would be a solution here but the multiple destinations option didn't exist in Spanair web site. Then I called to them and surprisingly the price difference was tiny. Not only they don't do any average but they keep almost the same price as if you take two one way flights: 329€. Only 10€ of discount!


I kept looking, including flights with one scale anywhere in Europe this time, until I found the Athens option
. It was out of budget, but it would make my parents happy if we included an Acropolis visit on this travel. Olimpic airlines offered a Cairo-Athens flight for the needed Friday by 85€ and Aegean airlines has an Athens-Barcelona flight for that Sunday by 100€. At the middle of March I booked and paid four tickets for all three routes.

The only surprise at the moment of purchasing them was with Olimpic flight to Athens, the charging process to the credit card was taking longer than usual until it was suspended with an error message saying flight rate had changed. When I retried, I had to pay almost 100€ each ticket. So finally, from 500€ of budget we spent 600€ for flight per couple.


Finally, then, the flights were like this:

06/10/2011 BCN 18:25 TLV 22:30
21/10/2011 CAI 14:10 ATH 17:10
23/10/2011 ATH 08:45 BCN 11:00


Later I found out if you enter on Egyptair web site as Egypt as local country rates are totally different for internal flights. In order of taking advantage of this discovery I purchased 4 tickets to fly from Luxor to Cairo the day the cruise ends. The cheaper flight was the on leaving later, but as our idea already was spending the whole day visiting Luxor, we took the flight at 00:20:

21/10/2011 LUX 00:20 CAI 01:30

The rate of this flight was 1066 EGP, so 125€ at current exchange for all four people.



- Hotels
I've looked into a lot of different web sites before choosing hotels. My searches started in Booking.com mainly, and then I looked alternative hotels on their own web sites.
I looked for hotels following those parameters:
- 3 nights for one in Jerusalem, as closer as possible to the Old City.
- 1 night on a Dead Sea resort with parking
- 2 nights for one in Wadi Musa, closet o Petra, with parking
- 2 nights on a Red Sea resort, in Egypt
- 2 separate nights for one in Cairo, as closer as possible to archeological museum
- 1 night for one hotel in Aswan
- 2 night for one hotel in Athens, close to downtown or Acropolis.
Some of them came with my request as the hotel was the reason of spending the night there, as happened for Taba resort. For Hotel Sol y Mar Sea Star "All inclusive" rates were shown and they were attractive enough as per spending two nights there.
The hotel in Aswan was chosen based on different parameters than usual. It seems the level for the hotels in that zone is quite poor, but there is a group of cheap hotels which trip rates set them apart from the rest, specifically, their Abu Simbel trip rates. What seemed to be the best of this group for me is Hotel Keylany. We contacted by email to them and they sent us their tour rates in a flash. Going to Abu Simbel for less than 10€ is reason enough for me for choosing it. Besides, those hotels refuse customers out of the hotel for these trips. Hotel Keylany has no website for their own and you are asked to book through hotels websites as hostelworld.com or booking.com. We're talking about 25€ per room. We shouldn't expect so much of this hotel by this price, but it seems the people reviewed it after being there ended quite happy. Anyway, we're going to use it just for sleep, and so few, as that night we must be up at 3 in the morning.
Another hotel easy to choose was Petra one. When you're looking for allocation offers around that place, immediately there is one which its value for money sets it apart from the rest: Cleopetra. I booked quickly two rooms for two nights in there. I paid 35€ per night per room.

Hotel supply in Athens is huge. Around archeological museum I found three hotels with the value for money I use to looking for: Areos, Centrotel and Art Athens. Somehow, at the moment of booking and purchasing the rooms there were a lot of demonstrations on that zone of the city protesting about government economic measures with usual riots, so I decided to move to a different zone, closer to Acropolis. I finally chose the Chic Hotel, rated even better than the mentioned before. It is 56€ per room, including breakfast, which the others didn't.
And now were facing the difficult ones. Seven months in advance I was so confident about hotel availability for the chosen ones. First I wanted to close was the one in Jerusalem, a truly bargain. Nice hotel, close to Old City by 18$ per night, which could be 25$ with half board:
http://www.maison-abraham.com/Tarifs.htm
. It was the key for being in our budget because it was going to be the place where we're going to spend more nights and in a city full of expensive hotels as Jerusalem is. The hotels in usual booking websites aren't lower than 100€ per night and, if you find one which are, reviews from people whom have been there make a picture of a place we don't want to be in. Somehow, the answer to my email was a "no vacancy" message. I didn't want to accept it and I called them. Obviously they confirmed the no availability of rooms with bathroom but they have vacancy for what they call "bungalows", which are small rooms with no toilet. I thought about it, but just one minute: I couldn't take my parents three days in a place where they should go across a garden for using the toilet. I looked for alternatives and found Ecce Homo convent offered rooms within Old City.
Rates were higher, but good enough. Only I received a "no vacancy" email back again.
And then I panicked. Ecce Homo email answer sent me a link to a local website with allocation chances:
www.cicts.org
; so I started to send a bunch of emails to every place, some of them had good rates, others were expensive. I received no availability answer from Notredame, Christchurch guesthouse, Maronite guesthouse among others. Only one answered with availability, the most expensive one, by the way: Lutheran Guesthouse. At least, it was rated number 1 on Tripadvisor. Bad news are 43€ ppn. 86€ per room and the budget crashed. I'm sure this is a best option then my first one, but I don't think it is going to be more than three times better, as the rates are. Anyway, I booked immediately, once panicked with the vacancy. I couldn't understand availability problem until I found out about Yom Kippur weekend, which I think has something to do here…
Preferences for Dead Sea were clear to me based specifically on price. Holiday Inn showed 80€ as rate a couple of months previous plane tickets purchase, while starting my budget calculation. But it rose constantly since then until, at the moment of booking, it reached Movenpick rates: 140€. Plan B was Dead Sea Spa, the only 4 stars hotel there and, therefore, cheaper. But it rose too much too, until 120€ at the moment of booking. We're meaning more than six months in advance yet. If you want to make a similar travel you must know there are some places should be taken almost one year in advance. At that moment, I was on an internal fight: I could spend a quarter of the hotels budget in one single night because I considered we should enjoy Dead Sea in good conditions or looking for cheaper alternatives far from Dead Sea. Considering what happened with the budget for Jerusalem hotel, I started to look for our chances somewhere else. Best hotels in Madaba, which is close to Dead Sea considering we're going to have a car, were just as much as 40€. This could be a good option for us if I could only find a good place to enjoy Dead Sea next day. I could read Dead Sea resorts have the option of purchasing a ticket for enjoying their facilities for people out of the hotel, the fee was higher than the room in Madaba hotel, but sum of both numbers was still cheaper than spending the night in resort. I thought that was the best solution until I found "O Beach". If I wanted to enjoy this new place and meet the concept of "luxury beach" I should be allocated somewhere else, what a coincidence!, just what I was thinking about. So I finally modified initial plan for spending night at Hotel Rumman in Madaba by 30€.
And we're almost reaching the end with Cairo nights. Is not difficult finding hotel in this city as the amount of allocations there is immense, as much as the price range. But plan has changed a lot of times for this point. At the beginning, it was clear for me the hotel should be the same for both separate nights, as this way we could leave part of the baggage in it for being lighter for the last part of the travel until we come back to the hotel the second time. Somehow, Gizeh is far from Cairo downtown and has some parameters we should value for our needs here: pyramids are there, Gizeh train station is the best option to board into sleeping train, you can buy or pick up the tickets on that station and hotels are better and cheaper than the ones in Cairo. All these points are great advantages for our first night, but disadvantages for the second night. The solution was taking a good resort with pool for our first stay, the one we should take the train, and I looked for a cheaper hotel in Cairo for our second stay, a week later. I selected Hotel Oasis in Gizeh, very close to pyramids, by 66€. We'll stay in the lap of luxury by a good price. Besides, this hotel has a complimentary transport service to Cairo downtown every two hours which we could use the afternoon planned to visit Khan El Khalili market.
For the second stay we've chosen a cheap hotel with a lot of benefits for our purpose: Hotel Isis is one block away Cairo archaeological Museum and will pick us up from the airport free of charge.
Hotel expenses are as following, quite out of our 500€ budget, as you can see:

-Lutheran Ghesthouse: 258€
-Hotel Rumman: 30€
-Hotel Cleopetra: 70€
-Al Wekala Three Corners: 120€
-Hotel Oasis: 66€
-Hotel Keylany: 25€
-Hotel Isis: 30€
-Chic Hotel Atenas: 112€

Total: 711€

- Car rental
In our plan, hiring a car in Jordan is essential. It would be for four days and I didn't expect a big expense here. For renting cars in this country you should look carefully insurances and picking and delivery points. This last point is important as, although the most of the companies let picking and delivery cars in almost every spot in the county, the cost could be big, even bigger than the car rental itself.
Just a few options were under 200€ for 4 days and pick and delivery points we needed. The option we trusted the most was Montecar: http://www.montecar.com/Fleet.htm. A price in dollars is an advantage with the current currency. But, as well as the rates are quite eye-catching, the important part is at the bottom of the page: 50$ picking the car up in Jordan border and 75$ delivering it in Arava border, close to Aqaba. We should think about the baggage too: we're going to be four persons with 3 or 4 bags, so we can now forget about economy category. The best option for us I think is the cheaper on Full-size list: 45$. This makes a total of (45x4) + 75 + 50 = 305$, just over 200€, and must still add 15$ per day for avoiding excess and/or GPS. Well, I found a way of hiring exactly the same by 260$. If we go through this web site www.jordancarrental.com rates are less for all options and they're not hiding you're hiring to Montecar.
Apart from Jordan, there is an option of renting car in Sinai for making trip to Cairo more comfortable, but alternative plans are good enough as per don't be worried about this point and taking this option just in the case rates are acceptable for us.
-Other expenses
This Travel is full of "other expenses" in taxis, sheruts, buses and tours, as Wadi Rum and Abu Simbel trips and the ones we will do by our own in Aswan or to the pyramids. The main expenses, though, and the ones we're going to include in the budget, are the Nile cruise and sleeping train from Cairo to Aswan. Both have the common point of being transport and allocation in one time. We can mention O Beach too, but this expense is easy to explain: http://www.obeach.net/jordan/about.php.
I found a couple of local agencies websites which let me see prices and information about different boats for Nile cruises. The rest of the web sites forced me to fill a form up with my whole data for sending me a quote and I had the feeling that was going to get me into a bargaining email process. The web sites I used were Nile-Cruise-Egypt.com y vantage-travels.com. After checking the whole list of boats I could see the most of the cruises started their 3 nights trip from Aswan to Luxor on Friday, then there was a smaller group starting on Wednesday, and just a few of them had their start for the rest of the week days. We needed one of this last group as our plan was sailing from Aswan on Monday and I could see an advantage on avoiding crowded temples by people coming from a lot of boats at the same time. I only found two boats starting on Monday: Iberotel Crown Empress and Iberotel MS Crown Emperor. The difference between those ships are "Empress" is bigger, actually, it is the biggest boat in Nile, and that's the reason I've chosen it. I think it could be an advantage in case we want a room change: biggest ship, biggest room availability options. This could be useful because the most of complaints about Nile cruise boats comes from rooms close to engines which constant noise disturbed people and didn't let them to sleep.
Vantage travels web site showed a 97$ rate ppn. A message stated this price was valid only until September 30th, but I couldn't expect a big difference for three weeks later. Nile-Cruise_Egypt web site showed a 145$ rate ppn for October. This rate was attractive too if noticing a red banner announced 30% discount if booked 6 months in advance (3 monbths in advance discount was set to 15%). The prices then, were close to the expected ones: less than 500€ per couple for both options.

I requested a quote from both agencies. First I received Nile Cruise Egypt offer, which was exactly the expected price: 305$ per person, including the discount, meals and visits and, surprisingly, the chance of having a Spanish guide for all three days. Then I received offer from Vantage and I got another surprise there: they changed rates currency from dollars to euros and rates were 100€ ppn. So the same package was 300€ with one only difference: they included visit to Luxor and Karnak temples, but the guide should be English. Considering we can easily visit those temples by our own, I decided to send an answer explaining clear I noticed their "subtle" currency change. I stated if rates were 97$ until September 30th I didn't expect a 50% (145$) rise in rates for two week later. I explained we've already got a 100$ ppn quote, so I refused their offer. I expected to be clear about knowing difference between euro and dollar and, may be, a lower offer from them. But I only received an email confirming rates and requesting me to double check offer from other companies as they were sure their extras weren't included.
I paid almost 900€ for a Nile cruise for four persons by credit card, although they needed from me to send an authorization with a signed form and even scanned images of the card. This subject was closed then. Finally I got something below budget! I needed to have cruise tied in advance but I'm so curious about what are the chances if you hire cruise once in Aswan.



Sleeping train is quite tricky. They set some restrictions seem to be against any will of selling tickets:
- Foreigners, whom this train is thought for, cannot book tickets on line.
- They don't accept to book before two weeks of trip date.
- They don't answer to emails.
- It's an act of faith and you must be incredible lucky, booking by FAX or phone.
- Once booked, you must pick up the tickets no later than 24 hours in advance.
- You cannot pay there with local money. They accept dollars and euros, but if you use euros I've read about travellers whom they tried to set parity: 1 euro = 1 dollar. They try to scam you with currency exchange anyway.
- You must pay the exact amount as they will try to keep any change.
One way of getting over all these obstacles set by the company in order you could use their services –that's crazy!- is purchasing the tickets through a local agency. So paying a bit more you can assure your tickets. Another option is asking to your hotel if they offer this service. Also you could try to get your booking with a lot of patience and be constant about calling and faxing and then, being at the station the day before departure, and before the office closing time to buying them avoiding being scammed in the process. But, in our case, is not clear we can go for them the previous day. It depends on the time we arrive from Sinai. You can throw the dice and go for the tickets once in Cairo with no booking and trusting on the alternatives, as plane or local sleeping train, in case you fail.
There is still a lot to know on this "Other expenses" part which will be explained on each day story.
Detailed plan, then, is like this:
| | | | |
| --- | --- | --- | --- |
| | | OCTOBER | |
| Day | Night | Morning | Afternoon |
| 6 | Jerusalem | Working on baggage | Tel Aviv flight and arriving to Jerusalem |
| 7 | Jerusalem | Mount of Olives | Old City |
| 8 | Jerusalem | Mount of Zion | Old City |
| 9 | Madaba | Arriving to Jordan and Jerash | Amman |
| 10 | Wadi Musa | Dead Sea | Karak |
| 11 | Wadi Musa | Petra | Petra |
| 12 | Taba | Wadi Rum | Aqaba y larriving to Egypt through Taba |
| 13 | Taba | Red Sea | Sinai |
| 14 | Cairo | Trip to Cairo across Sinai | Khan El Khalili market |
| 15 | Train | Gizeh, Dusher and Saqqara | Gizeh |
| 16 | Aswan | Aswan | Aswan |
| 17 | Cruise | Abu Simbel | Aswan |
| 18 | Cruise | Kom Ombo | Edfu |
| 19 | Cruise | Luxor | Luxor |
| 20 | Cairo | Luxor and Karnak temples | Luxor and flight to Cairo |
| 21 | Athens | Cairo | Athens |
| 22 | Athens | Athens | Athens |