- Route plan
We still have a week of vacation this year for a quick trip in December. We can discard a lot of destinations because of the winter, although we visited Berlin in a December. We must compensate someway the expense and tiredness of travelling all around the world in our trip to New Zealand just three months ago.

Compensation law is clear then: we should go to the nearest place. It's a shame talking about the exotic and far places we've been and confess I've never been in such relevant cities of my own country as Seville or Cordoba. I've been in Granada when I was a child, but my wife hasn't, so now is the moment.

We've got seven days for these three cities as, although we thought about doing the square with Malaga in one of the corners, this is a city and region we both know well, although separately.

So finally it is going to be a triangle and, as it's going to be six nights spent there it's easy to divide among the places: two nights on each city.

From here the route is simple, we only must decide what to be visited on each of the two days corresponding to each city.

As flights are going to be to and from Seville, we've got the starting and ending points. The small decisions were taken by tiny reasons and, as we were going to arrive to Seville very early, that was going to be the first city, then we could go to Granada or Cordoba, and we chose Granada just for avoiding the longest driving for the last day, the one we were going to take the flight. At the end of visiting Cordoba, and just before our return trip to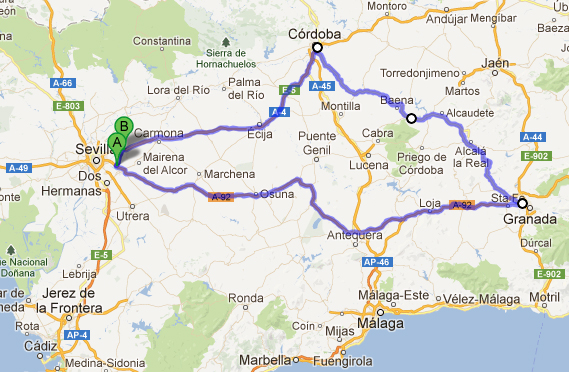 Seville, I found the chance of visiting Medina Azahara, outside the city, so the route plan kept like this:
1: Early arrival at Seville and day spent on this city.
2: Entire day spent in Seville.
3: Leaving to Granada and visiting the city.
4: Entire day spent for visiting Alhambra.
5: Driving to Cordoba.
6: Entire day exploring Cordoba

7: Visiting Medina Azahara and driving back to Seville for our flight to home.

For this plan we still would need to decide what to be visited on each of the cities to decide in what moment of the day we would do the car drives. After being two entire days in Seville and having the chance of coming back to that city in our last day, it's clear we ust leave to Granada as soon as possible the third day. When having the list of highlights on each city we could see we wouldn't be able of doing the same for the next ride, as Granada seems to need more time once spent one whole day to Alhambra and half of the other to driving to there, so we think about leaving Granada the fifth day to Cordoba once the visits are completed. The list of spots in Cordoba is long too, but they're mainly concentrated in a small area, so we can arrive late the first day in there. Also, we always can leave some visits for the last day.

A quick research allowed us to fix the budget to 400€ previously for transport (plane and rented car) and hotels.

A specific plan for each city is detailed on each day pages, so the general route plan (number of day and where we spend the night), definitively closed, kept like this, starting by December 13th of 2012:

1,2: Seville
3,4: Granada
5,6: Cordoba
7: Home
- Flights
This time was clear for us so, after verifying all airlines were indeed a lot more expensive than Ryanair, we did the search with them. This is going to be a short flight and we can handle a week just with our hand baggage, these are important points when thinking about flying with Ryanair.

This company flies to Seville from Barcelona, but in a first search it seemed could be cheaper flying to Malaga and moving from this city. Finally, it was not like that and when looking for the best days in December we purchased a flight going on Tuesday and returning on Wednesday by a total of around 100€ for two persons. We didn't mind about splitting the week like this.

When talking about the total rate I must say Ryanair website doesn't show the final price until… well, the final itself. When you're in the paying process, no matter what payment method you choose, some taxes are included which, in this case, were almost as much as the flights. So, twenty-something euros by flight seemed fair enough in September as per taking these tickets. I must mention here when checking the rates in November I found these same flights could be bought cheaper, by 83€ in total.

Finally, then, lthe flights with Ryanair are like this, by 105,58€:

12/13/2012 BCN 6:00 SVQ 7:50
12/19/2012 SVQ 20:30 BCN 22:10



- Hotels
This time, taking advantage of looking for hotels in our own country, we've checked the typical voucher and plans websites apart from the hotels ones as I know it's usual finding plans for Andalusian cities.

First we chose a hotel for each of the three cities and booked them in booking.com with free cancellation option. Then, we've been checking the mentioned voucher websites looking for a better deal. This way, we ended changing the hotel for Granada and Cordoba. Both coupons were purchased through the same website: Groupon.

For Granada, we've taken a practical location, cheap but far from the city center but in the same road taking to Alhambra. The visits in this city are split around it, Alhambra itself and Albayzin will need the car and Hotel Saylu offers breakfast and parking. So, we got a voucher for two nights in Hotel Saylu by 58€.

Somehow, in Cordoba location is important as everything is concentrated all around the Mosque. Although our first book was good, we found an option for a voucher in an even better located hotel and best rated by the guests, with breakfast included and even costing 10€ less: Hotel Los Patios. Voucher's price was 69€.

For Seville, on despite of the amount of vouchers cheaper than our first choice, we kept the luxury of Hotel Silken Al-Andalus. We will have to use the bus as it is far enough from the city center, but they stop just at the entrance. It is located just beside the stadium of Betis football team. It's rated as four stars and it's 55€ per night, breakfast included.

So, the total budget for hotels is like this: 58 + 69 + 110= 227€

-Rental car
When looking after renting a car we found too one company with cheaper rates than anyone else: Pepecar. It must be picking up and delivery in Seville airport as any other option increase the rate pretty much.

Following these options we could book a car for 5 days by 40€, from which we already paid 5 as deposit.


-Other expenses
The remaining expenses for this travel are admission fees, meals, public transport in Seville and fuel. These expenses use to be explained in the daily pages.

We could check prices for the cities of this itinerary are cheaper than the ones we're used to for transport and meals.

Detailed plan, then, is like this
:
:
| | | | |
| --- | --- | --- | --- |
| | | DECEMBER | |
| Day | Night | Morning | Afternoon |
| 13 | Sevilla | Seville: Alcazar and Cathedral | Seville |
| 14 | Sevilla | Seville: Triana and Plaza de España | Seville |
| 15 | Granada | Route to Granada | Granada: Albayzin |
| 16 | Granada | Granada: Alhambra | Granada |
| 17 | Cordoba | Granada | Route to Córdoba |
| 18 | Cordoba | Cordoba: Great Mosque | Cordoba |
| 19 | Home | Medina Azahara | Seville |