1 (red): Les Invalides, Rodin Museum, Concorde Square, Champs-Élysées and Arc de Triomphe.
2 (dark red): Luxembourg gardens, Pantheon, Notre Damme, Sainte Chapelle, Musée du Louvre
3 (purple): Trocadero, Eiffel Tower, Sacre Coure, Moulin Rouge, Opera, Versailles, cruise by Sena.
4: Barcelona

I know it is a very ambitious plan visiting all these places in two days and a half, but we're really crazy .



- Flights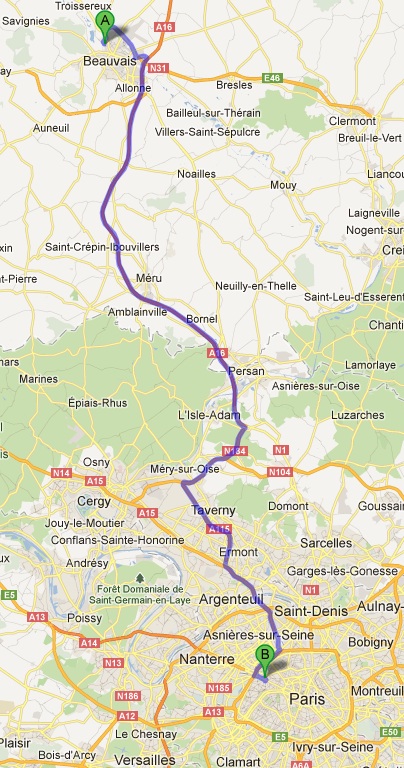 I use to look for flight long time in advance because is the way of getting good rates, so I was expecting some penalty just two months before leaving. At least, we could take advantage of a complete flexibility for days and times. The best price was for Ryanair and taking the cheaper days for going and return flights – leaving on Tuesday and returning on Friday -, it let us fly to Paris by 32€ per person.

That is a tricky price for the flight as it is not for Paris itself but for Beauvais that, as you can see on the map, is quite far from the city. So we must add 13€ per person and way of the Ryanair bus making the trip between this airport and French capital as it seems to be the only option at that airport.

We want to check one bag too which adds 15€ more per way. This airline allows a maximum of 15 Kg and we shouldn't need more for just three days. This is 30€ to add to the total, which is as follows:

32€ x 2 = 64€
15 x 2 = 30€
13€ x 4 =

52€


Total: 146€

The 52€ for the bus are not paid at booking time but once there.

Finally, the flights are like this:

04/09/2007 GRO 11:25 BVA 13:10
07/09/2007 BVA 12:15 GRO 13:45



- Hotels
Because of work matters, I've got a good condition when booking through hotels.com, so I could choose a hotel with a good location and reviews with a temporary offer. Adding the offer and my personal discount the room at Best Western Eiffel Cambronne was 47€ per night.
This hotel is quite close to Eiffel Tower and at walking distance of The Invalides. Also, it has got a metro station near and the reviews talking about how this hotel is over the standard in room space, which is particularly low in this city.
3 nights at Best Western Eiffel Cambronne
Total: 141€
-Other expenses
The only expenses for this quick travel come from monuments tickets and city transport. Both points seem to be solved by the Paris Museum Pass for the first and the Mobilis card for the second one.
The day with more money to be spent on tickets is the one in the middle, so we decide to acquire the two days Museum Pass card, which costs 30€, and the few visits for the first day afternoon we will pay them directly there, because we think it is the best deal.
For Mobilis card, we will pay 5,40€ every day for zones 1 and 2, where we will be, except for the last day, when we will go to Versailes, therefore we will need the 4 zones one, which costs 9€.

Detailed plan, then, is like this:


SEPTEMBER
Day
Night
Morning
Afernoon
4
Paris
Flight
Invalids
5
Paris
Notre Dame
Louvre
6
Paris
Eiffel Tower
Montmartre
7
Home
Paris and flight
Home