- Route plan

This December of 2009 I have so many vacation days as per only have the week we went to England with my parents, so I set this romantic trip to Rome for just me and my wife. Leaving a Thursday and coming back on Monday are coming from the Ryanair rates as we don't have any limits here. We have clear some visits as they were the source for wanting this travel. On this list we have famous highlights as Colosseum, Vatican City, Roman Forum, Fontana di Trevi… but when learning about this city another new less known must-do's appeared, as Saint Peter in Chains or Ostia, for example.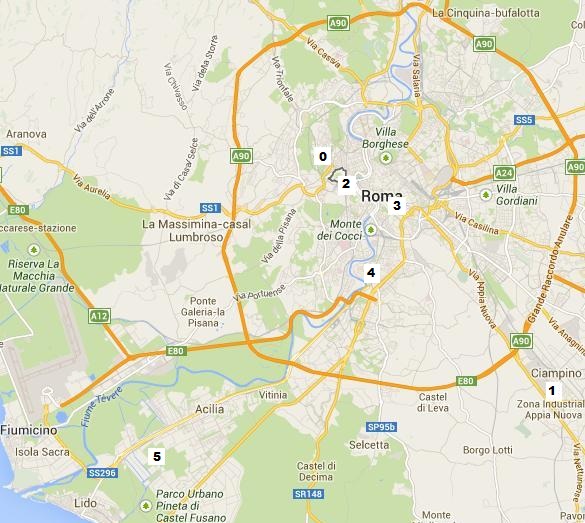 So, we have a long list of visits, with some spread in different areas and even out of the city.

The spots marked at map are:

0- Grand Hotel Tiberio
1- Ciampino Airport
2- Vatican City
3- Colosseum and Roman Forum
4- Basilica of Saint Paul Outside of Walls
5- Ostia antica

Fortunately, all these visits can be reached by metro or train and the trip from and to Ciampino airport will need to combine metro and bus.

We've spread the different areas across the days. Vatican City and Ostia will clearly need a whole day for both. Another day will go for the historical center, with Colosseum and Forum. So the other highlights, as squares and fountains, will be shared between the arrival day and the leaving day which, having a late return flight can, be taken as a whole day itself.

As have been around 130€ for flights and 270 for the hotel, the budget for this trip to Rome is finally around 450€ when adding 46€ from the Roma Pass.


- Flights
This destination was clearly a target for a low cost airline. For the dates we were after them, only two months in advance, nothing could be compared with Ryanair rates from Girona Airport. It gives us a price of 68.43€ per person for the return trip and including the bag, the most expensive by far here.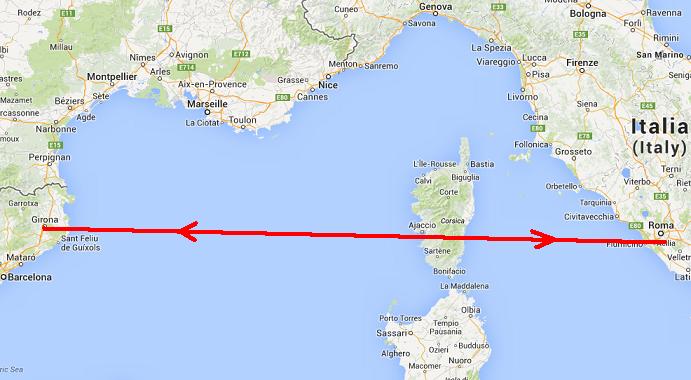 Finally, then, Ryanair flights are like this, by 136,86€:

12/17/2009 GRO 08:10 CIA 09:45
12/21/2009 CIA 21:30 GRO 23:10


- Hotels

Allocation is expensive in a city like Rome. I searched a lot and have to sacrifice location to get what I think is the best value for money: el Grand Hotel Tiberio.

I booked 4 nights using booking.com by 277€. Hotel is far from the city center, but close to a train station which can take us easily to it. Also, it is close to Vatican City and there is a free daily transfer to it which we're going to use.


-Other expenses
The clearest fix expense is the Roma Pass purchase, which now is 23€ each. It will give us free access to the two first visits and is practically paid off by the Colosseum visit.

Public transport in Rome is cheap, 1€ each ticket, so we will get them as we need once there.

Detailed plan, then, is like this:


| | | | |
| --- | --- | --- | --- |
| | | DECEMBER | |
| Day | Night | Morning | Afternoon |
| 17 | Rome | Flight | Fontana di Trevi |
| 18 | Rome | Vatican City | Vatican City |
| 19 | Rome | Colosseum | Forum |
| 20 | Rome | Ostia Antica | Ostia Antica |
| 21 | Home | Rome | Flight |